If you have ever deleted a file or an entire folder by mistake I'm sure you immediately regretted this and wanted to somehow retrieve the files which were 'lost'. Luckily when a file is deleted in Windows, it is not actually removed from the drive. What is removed is a reference to the file, allowing Windows to overwrite this file with new file(s). I'm sure this fact makes you appreciate secure erasers even more now, however let us focus on the recovery of these 'lost' files.
Please note that a data recovery program should not be installed on the same drive from which files are required to be recovered as the act itself of recovering files causes information to be overwritten, thus the files that you may want to recover may become unrecoverable if this is done. For this reason, portability can be considered a much desired feature in a data recovery tool.
All the programs reviewed here were tested by attempting to recover files and all were successful at retrieving the files. Now… here are the best free file and data recovery tools for Windows.
This review is part of our Best Free Windows Software section. Check out more articles on the best free Windows programs from here.
Table of Contents
Best Free File And Data Recovery Tool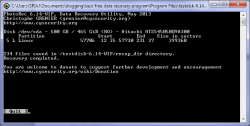 Program Name: TestDisk & PhotoRec
Developer: CG Security
Download Size: 3.55MB
Version Reviewed: 6.14
Supported OS: Windows All

Pros
TestDisk recovers lost partitions; PhotoRec recovers lost files
Completely portable
Ability to fix partition table and recover deleted partitions
Ability to rebuild FAT
Rebuilds damaged boot sectors
TestDisk supports several types of file systems including those used on Xbox and Wii
PhotoRec ignores file system and targets underlying data, ensuring better data recovery and allowing you to recover files even after a reformat or crash
PhotoRec works with hard disks, CDs, memory cards, USB memory drives, digital cameras, mp3 players, etc.
PhotoRec is capable of recovering over 440 file formats
Both programs are easy to use despite not utilizing a Graphical User Interface
Can be run from a bootable/recovery media/disk from outside Windows
Cons
Does not allow for the selection of individual files for recovery but rather retrieves all recoverable files in target drive/partition/directory
Only works via command line, making it a bit daunting for some users
Discussion
TestDisk and PhotoRec are 2 separate pieces of software which are bundled together and support each other. TestDisk is capable of recovering deleted partitions and making unbootable drives boot again while PhotoRec is an excellent file recovery utility. Both of these programs are fully portable which allows for them to be moved to alternative drives or partitions according to which one the user desires to recover data/partitions from.
TestDisk
TestDisk is a powerful program with features target toward both novice and professional users. This program has quite a high success rate at recovering lost partitions when compared to some other utilities. Test disk can do the following:
Fix partition table, recover deleted partition
Recover FAT32 boot sector from its backup
Rebuild FAT12/FAT16/FAT32 boot sector
Fix FAT tables
Rebuild NTFS boot sector
Recover NTFS boot sector from its backup
Fix MFT using MFT mirror
Locate ext2/ext3/ext4 Backup SuperBlock
Undelete files from FAT, exFAT, NTFS and ext2 filesystem
Copy files from deleted FAT, exFAT, NTFS and ext2/ext3/ext4 partitions.
This is quite an impressive feature list. Please note that when attempting to recover a partition that you may not immediately find the partition you were looking for and may need to select the deeper search option in order to do so. This takes quite a bit longer than the regular option but it is much more thorough and has proven very effective.
PhotoRec
PhotoRec is a powerful data recovery tool capable of recovering over 440 different types of files.
PhotoRec's awesome nature comes about due to it ignoring the file system of the drive it is scanning and targeting the underlying files thus leading to a very high recovery rate. For safety it even uses read-only access so as to minimize the risk of file overwriting.
At the very minimum PhotoRec is capable of recovering files from the following file systems:
FAT
NTFS
exFAT
ext2/ext3/ext4 filesystem
HFS+
It works with a wide variety of devices such as cameras, mp3 players and hard drives of course and has been successfully tested with the following digital cameras:
Canon EOS300D, 10D
Casio Exilim EX-Z 750
HP PhotoSmart 620, 850, 935
Nikon CoolPix 775, 950, 5700
Olympus C350N, C860L, Mju 400 Digital, Stylus 300
Sony Alpha DSLR, DSC-P9, NEX-6
Pentax K20D
Praktica DCZ-3.4
Please note however that PhotoRec retrieves all recoverable files from the device it is scanning. It does have a high success rate but this is not always desirable and could take up lots of space. However, this would be quite useful in cases of mistaken mass deletion.
Although they do not immediately appear this way, these 2 programs are quite simply powerhouses. In cases where it is necessary, TestDisk and PhotoRec can also be run from a bootable CD in order to fix particularly tricky problems.
Runner Up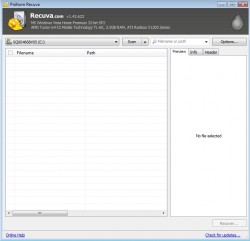 Program Name: Recuva
Developer: Piriform
Download Size: 3.55MB
Version Reviewed: 1.47
Supported OS: Windows 2000, XP, Vista, 7, 8
Discussion
Recuva has a beautiful user interface and by default uses a wizard which simplifies the process of recovering files.
Recuva gives users the option of operating the program with or without a wizard interface. Users have the choice to choose from the very begin or even after the scanning process, the type of file they wish to recover. This helps avoid the displaying of unnecessary results. Users can specify a location from which they wish to recover files as well. There is also a deep scan option which is much more thorough and generally returns more results.
In Advanced mode also allows users to alter the way the program works — to their preference — as well as to view more information about discovered files. For example in the right column of the program in advanced mode, the preview, info and header tabs display additional important information about the discovered files. Of note, the info bar displays the state of files and if they are likely to be recovered by displaying the state of the file via descriptions such as 'Excellent'. Advanced mode also allows users to adjust options such as language, changing the view mode and for the turning on or off of deep scanning. Recuva is available in a portable version as well.
Recuva also allows for discovered files to be securely overwritten using various options — accessible through enabling advanced mode– such as a simple overwrite(1 pass), DOD 5220.22-M(3 passes), NSA(7 passes) and Gutmann(35 passes). Take a look at our Best Free Secure Eraser article to learn more about securely overwriting files.
Although not as powerful as the TestDisk & PhotoRec combination Recuva will recover your data in many cases and in most cases should meet all of your needs.
Honorable Mention 1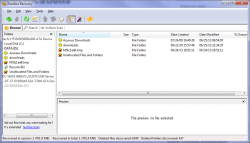 Program Name: Pandora Recovery
Developer: Pandora
Download Size: 2.32MB
Version Reviewed: 2.11
Supported OS: Windows 7, Windows Vista, Windows XP
Discussion
Like Recuva, Pandora has a well designed interface which along with it being wizard driven facilitates ease of use.
Also, similar to Recuva, Pandora also displays information about potentially recoverable files and allows for the filtering of discovered files.
On starting Pandora users are given three options for recovering files. Users can choose to browse a drive for deleted individual folders and files. Also, you can choose to recover files based on the full or partial file name, file size, file creation date or file last accessed date. There is also the deep( surface ) scan option which scans a drive for files of a certain type. This scan takes the longest amount of time but returns the highest number of results from drives with corrupted file tables, recently formatted drives, removable drives such as memory sticks and jump drives as well as files not recoverable via the previous two methods. All of these functions can also be accessed outside of the wizard.
One of my favorite features of Pandora is that on starting the wizard, the first thing it does is to ask you to check if your files are still in the recycle bin which could easily be overlooked believe it or not.
Pandora is a simple yet effective tool which will definitely aid you in recovering lost files.
Honorable Mention 2
Program Name: Aidfile Recovery Free Software
Developer: Mitusoft
Download Size: 4.75MB
Version Reviewed: 3.631
Supported OS: Windows 2000/XP/2003/Vista/Server 2008/7/8
Discussion
Aidfile Recovery Free offers users 4 options for recovering deleted files. Firstly is the 'Undelete Quick' option. This option recovers files 'permanently' deleted by using shift+delete, files deleted from the recycle bin, it allows for files to be recovered which were lost due to the uninstallation of software as well as any other file lost due to an operation carried out by mistake. Additionally there is the 'Unformat Quick' option. This allows for the recovery of data lost after the formatting of a hard drive. The 'Recover Partition Quick' option allows for the retrieval of data lost after the deletion of a partition. It also appears that there is a portable version of Aidfile.
Finally, a full scan scours your hard drive and displays results that would have been missed when utilizing the other options.
Quite frankly this is an excellent program. The only area where Recuva and Pandora really stand out is with their ease of use. For example Recuva breaks down scanning locations into several categories as compared to Aidfile and Pandora goes out of its way to ask users if they checked the recycle bin first.
These are all excellent programs, however Recuva and Pandora are slightly more user friendly.
Take note the free version of Aidfile limits you to recovering 1GB of data, which is good enough for most people but can be an issue for some.
Honorable Mention 3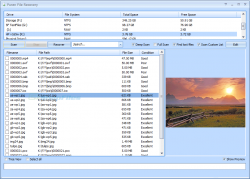 Program Name: Puran File Recovery
Developer: Puran Software
Download Size: 2.25MB
Version Reviewed: 1.0
Supported OS: Windows XP/Vista/7
Discussion
Puran File Recovery allows users to do the following:
Deep Scan: Does a quick scan as well as scans entire free space of the selected drive for pre-defined image, video, audio, document etc file formats. It is a byte by byte scan and hence can take a lot of time.
Full Scan: Does a quick scan as well as a deep scan of the Total Space. If the Find Lost Files option is also selected, it scans for lost partitions as well.
Find Lost Files: Scans for lost file records. When combined with Full Scan option, it also scans for lost partitions. At times, you may see files that you do not recognize at all, these files are actually random data on your disk falsely detected as files. It is a result of less strict algorithm to get maximum records. Just ignore them.
Scan Custom List: When combined with Deep / Full Scan, it scans the selected drive for a user defined format list which you can see by clicking EDIT on the main window. Adding or editing formats is strictly for advanced users only.
Physical Drive: If a Physical Drive is selected for scanning, all files irrespective of their deletion status are displayed. Scanning Physical Drive should be the last option.
Preview Window: It shows the first 1024 bytes of the selected file in HEX and ASCII format. If it is a valid image file below 10 MB, this window displays the image.
Search: You can search for a filename. Use of wildcards ? and * is allowed. For example, if you want to list all files starting with 'a', you may search for 'a*'. * is important if you do not know the exact filename like for searching hellopic.jpg, you can search hello*.jpg and if you know exact filename, you can search hellopic.jpg directly.
My issue with Puran Recovery is that although it is quite effective, it does not give the option — provided in some of the other offerings reviewed here today—to recover files from a specific folder. This can lead to some difficulty in locating the file you desire to be recovered. UPDATE: Puran File Recovery can recover files from specific folders — you must use 'Tree View' to do that. It does give you the option of choosing the type of file you wish to recover however which allows for some differentiation between files.
Overall, Puran File Recovery is another excellent program; I won't fault you if you decide to use it.
Honorable Mention 4
Program Name: Undelete 360
Developer: File Recovery
Download Size: 2.45MB
Version Reviewed: 2.1.6.25
Supported OS: Windows XP/Vista/7
Discussion
Undelete 360 is a very straightforward, simple program which easily allows users to begin recovering their deleted files. Simply click search, choose your desired drive and then click start and Undelete 360 will display a list of files it found that might be recoverable. These files are displayed in a list format and information about their size, date created and the date they were last modified are also displayed. Undelete 360 is also available in a portable version.
Although, it doesn't carry a deep scan option, Undelete 360 is useful for quickly recovering recently deleted files and has a well laid out interface.
Other Alternatives
Related Posts