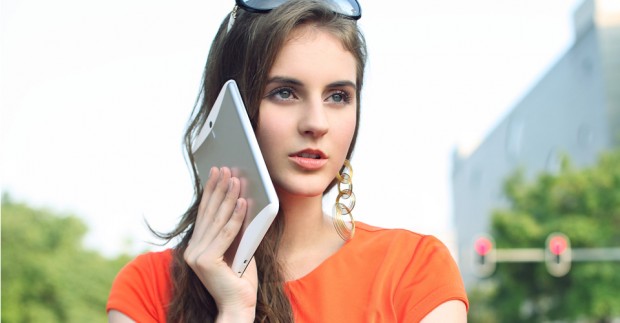 It's only going to take another generation or two until those 5 to 6-inch phablets become full on tablets. Huawei decided to skip right over all the innovation for the next few generation of phone sizes and took it upon themselves to develop the MediaPad 7 Vogue. It's a 7-inch tablet equipped with voice calling support so you can make calls with it. Yes, they actually expect you to hold the massive device up to your ear just like you would a traditional smartphone.
Of course, there is a WiFi only model for those folks who are unwilling to accept change, or just don't want to look silly with a huge tablet pressed against the side of their head. The 3G version of the MediaPad 7 Vogue will allow users to place and receive calls just like they would on their smartphone. It goes without saying, that also means users will be able to browse the internet, anywhere they have a proper wireless signal.
As for the internal specs, here's what the MediaPad 7 Vogue is working with:
7-inch 1024×600 IPS display
1.2GHz Huawei quad-core Cortex A9 processor
1GB of installed RAM
8GB internal storage space with MicroSD expansion slot
3MP rear facing camera
Android 4.1 Jelly Bean
The Huawei MediaPad 7 Vogue will be available sometime this month in China and in Western Europe starting in July, but there's no word on whether or not it will be available elsewhere in the world. The tablet is priced at €449 which is roughly $588 USD.
According to Huawei's Chief Executive Officer of the Consumer Business Group, Richard Yu the tablet is designed for a very niche audience, or so it seems.
"Building on the popularity of the HUAWEI MediaPad series, we've created a new tablet that caters to fashionistas, technology seekers, entertainment junkies, and people who simply expect more from their technology. We're delighted to introduce the MediaPad 7 Vogue, our call-enabled tablet with world-class entertainment capabilities and long-lasting battery power. The MediaPad 7 Vogue is a perfect example of Huawei's dedication to making extraordinary experiences possible."
That's great buddy, now let's do something about the bad reputation of your company so we can see more of Huawei's devices in the States and elsewhere in the world. If you don't know what I'm talking about, Huawei is constantly criticized because the Chinese government can apparently pull sensitive information off their devices. Many are worried country officials will use extracted information poorly, or in other words they'll use it for modern espionage.
Back to the subject of the MediaPad 7. What are your thoughts on using a tablet as a phone?
[via TNW]

Related Posts