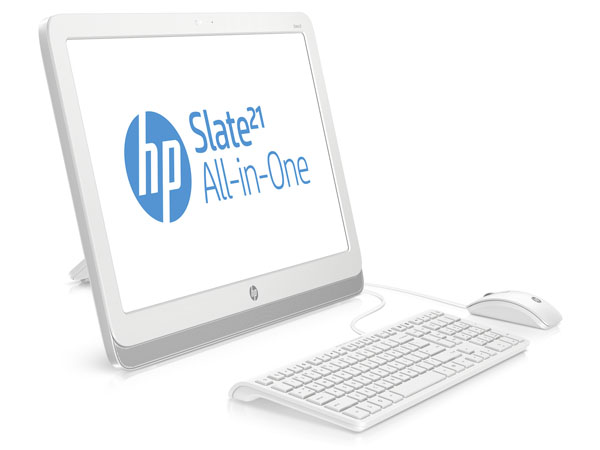 HP just announced the Slate 21, which is a 21.5-inch freestanding Android powered PC that happens to be integrated into a display. It's essentially an all-in-one PC backed by an Nvidia Tegra 4 processor and Android 4.2.2 Jelly Bean.
HP didn't clarify too much information about the new Slate 21, when they unveiled it during a press event in Beijing on Monday morning. We do know that the all-in-one PC will include a 1920×1080 resolution display, HD webcam, integrated speakers, and HP's proprietary printing technology labeled Wireless Direct. It will also start at $400.
Unfortunately, there was nothing mentioned about availability or price, or whether or not the Slate 21 will be available here in the States. According to CNET the PC will be available in multiple countries internationally when it launches. For the Dottechies outside the States, we don't know about general availability either.
HP is actually at the forefront when experimenting with the Android platform, as is evident with the Slate 21. It's actually quite surprising to see since HP has trudged through some hard times up until recently. If you remember correctly, their HP Touchpad tablet bombed horribly until it was available in a closeout fire sale some time ago. They've since moved on to developing Android devices, and are now adding the infamous OS to platforms you wouldn't otherwise find it available on.
What do you think of the Slate 21? Are you keen on owning an all-in-one PC powered by Google's Android?
[via Ars Technica, Engadget. CNET]
Related Posts