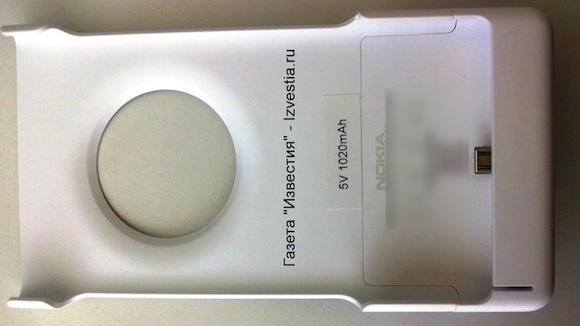 Nokia is preparing to wow the world with the official announcement of the rumored Lumia 909 or 1020 Windows Phone 8 device with a massive 41-megapixel Pureview camera at the back. We've seen leaked images of the handset that highlights that giant of a camera, now we're learning Nokia plans to launch the device in multiple colors for $602 unlocked.
According to WPCentral, a tipster sent in a screenshot of a Microsoft inventory that showcased Nokia's new hero smartphone. The device is dubbed as the Lumia 1020 here and not the 909, which could be a clear indication of what Nokia is aiming for. In addition, the device will launch in While, Black, or Yellow, though it would be splendid if the Finnish giant would have a version in Cyan or even Pink for those emotional times.
Furthermore, Russian blog, izvestia, leaked an image of what appears to be the Nokia Lumia 1020 camera grip and battery case accessory. This accessory is designed to improve one-handed use when taking photos, it also has a socket for a tripod base, a microUSB port for charging the battery, and a dedicated camera shutter button. However, it is not yet certain if this accessory will provide wireless charging, since previously leaked images of the Lumia 1020 highlighted wireless charging connectors.
Clearly Nokia is positioning this device as a camera first and a phone second, as there's not much the company can do since it does not have control over the Windows Phone 8 platform. Things could have been better off for the platform if Nokia had more say on the software side of things, or if the company had more room to customize Windows Phone 8 to its own liking for the Lumia line of smartphones.
Come July 11, Nokia will officially unveil its 41-megapixel sharpshooter at an event in New York. This event is expected to be streamed live at Nokia Conversations and should begin at 11am Easter Standard Time.
Related Posts