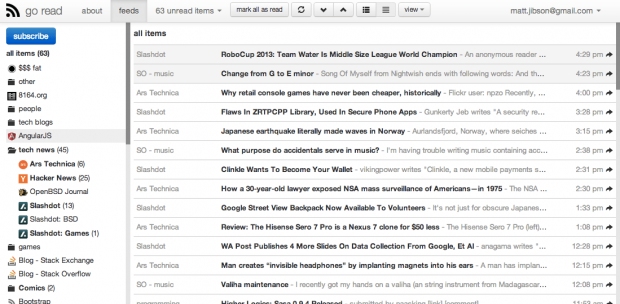 When Google announced that it would be shutting down Reader, most RSS-users went out and began a search for a replacement. But instead of going to the many services that sprung to the rescue, one developer decided to just create his own Google Reader clone.
Go Read is an open-source RSS reader that not only looks very similar to Google's now defunct service, but has many of the same functions as well. It has the same keyboard shortcuts, mobile support and the option to import your old Google Reader feeds or OPML files. It's also designed to be "fast, snappy, and clean."
To make Go Read happen, Gibson worked on it for a couple of hours after work, for five days a week. Now he's officially opened it up to the public and thousands of people have already signed up. According to Gibson, he plans on covering the costs of running Go Read by giving the people the choice of having ads or paying a subscription fee. But the work doesn't stop there — features like being able to organize your feeds and folders will also be added in the future.
If you wanna give Go Read a shot, you can head over to the website and sign-up.
[via Laughing Squid]
Related Posts