Here on dotTech we have already covered best free cloud storage services, services that can be used not only to backup and remotely access or share files but also for the purposes of syncing files and folders across multiple computers and devices. However, sometimes there is a need to sync files and folders locally on the same computer: from drive to drive, partition to partition, folder to folder, or even from network share to network share. And for that reason is why file and folder sync software exist, to provide users with the ability to sync files and folders locally as opposed to across computers and devices. This article looks at the best free (local) file and folder sync software for Windows. Read on to learn more.
This review is part of our Best Free Windows Software section. Check out more articles on the best free Windows programs by clicking here.
BEFORE WE BEGIN
As already mentioned, this article focuses on the ability to sync files locally, from drive to drive, partition or partition, or folder to folder (including network shares). If you want the ability to sync files across multiple computers or devices, check out dotTech's review of best free cloud storage services. With local syncing, files are copied from folder to folder or from drive to drive in order to keep the content of a pair(s) of folders consistent.
For the purposes of this review, tests were carried out to give an idea of the competency of the software but please note that the testing carried out was not carried out under strict scientific conditions and should not be taken as an absolute indication of a piece of software's worth. In other words, we didn't exactly follow the scientific method.
That said, testing was carried out on an Acer Aspire 5315 with an Intel T7500 2.2GHz processor (4MB L2 Cache, 800MHz FSB), 2GB DDR2 RAM, and a 500GB Hitachi Travelstar Hard drive. The testing was actually quite simple – I synchronized a folder containing 2.5GB worth of files between my internal laptop hard drive (source) and an external 160GB Hitachi hard drive (destination or target). I looked to ensure files were properly synced/copied and noted the time each local sync program took to synchronize the files. I then placed another 200MB worth of files into the source folder and noted the time it took for the software being tested to complete the syncing of the added files. Finally the time taken for the program to complete a sync after deleting all of the files located in the source folder was also noted. The faster the sync times the better. Of course, this was not the only factor that was taken into consideration while selecting our number one pick but time taken to sync was an important one.
Now, after all of that bookkeeping, let's get on with it. Here are dotTech's picks for the best free (local) file and folder sync software available for Windows.
Table of Contents [FreeFileSync vs Synchredible vs SyncFolders vs Synkron]
Best Free Local File and Folder Sync Software
Program Name: FreeFileSync
Developer: ZenJu
Download Size: 5.94MB
Version Reviewed: 5.18
Supported OS: Windows 7, Windows 2003, Windows 2000, Windows Vista,Windows XP
Portable Version Available: Yes
Approximate Memory Usage When Idle: 5.30MB
Time to complete initial sync (copying): 1 min, 50 secs
Time taken to complete secondary sync (addition): 12 secs
Time to complete tertiary sync (deletion): 1 sec
Pros
Can do one way and two way syncs
You can setup as many syncs as you like
Works with internal hard drives, external and USB hard drives, and network shares — you can sync files between any folders on internal/external and USB/network folders
Multiple folder pair support
Ability to automate syncs
Can include/exclude files via filters
Allows you to create custom syncs using your own rules, if you don't like the rules built into the program
Allows for saving of sync configurations, meaning you can easily reuse at a later time and date
Users can compare folder pairs before syncing
Will copy locked files using Windows Shadow Copy
Uses Windows Task Scheduler for scheduling tasks, which is a very good thing because that means FreeFileSync does not need to be "always on" to run scheduled tasks — it can run itself only when it needs to be run
Supports Unicode
Is portable and open-source
Cons
Is portable but must be "installed" (select portable version during installation); once "installed", the resulting EXE is portable which you can copy + paste anywhere you want
Comes bundled with bloatware during installation; you will be asked to accept or not accept third-party software to which you should select 'I do not accept' to avoid installing crapware (see screenshot to right). Be sure to keep an eye not to avoid downloading and installing unnecessary programs.
Discussion
FreeFileSync is very straightforward to use and gets users on their way to syncing up desired folders rather quickly. Some persons have complained that the program's user interface is a bit over complicated but I personally am not of this view – it certainly is less complicated than Synchredible in terms of setting up a sync.
On the left of the main program window is the compare button. Compare well, 'compares' a folder pair showing you any similarities or differences between the particular pair. To the right of the compare button is a settings button which allows users to customize how exactly files are compared – based on file names or otherwise.
FreeFileSync also offers the facility for users to open saved sync configurations, to save a sync configuration as well as to create a batch job in order to automate the sync process. The most important aspect(s) of the program are of course the synchronization options. The options for folder syncing are as follows:
Two way: Identifies and propagates changes on both sides. Deletions, moves and conflicts are detected automatically through the use of a database
Mirror: The 'right' or target folder is modified exactly to match the contents of the 'left' or source folder
Update: Copies new or updated files to the right folder
Custom: Allows you to configure your own synchronization rules
In terms of error handling, the choice is yours; either choose to display a popup or ignore any errors altogether. Additionally, items which are deleted during a sync can either be permanently deleted, moved to the recycle bin or stored in a user defined location. A file list of the files which are synced can be exported for reference purposes. Also there is a fail-safe copy option where files are written to a temporary location thus guaranteeing a consistent state even in the case of a fatal error.
Some other advanced options include choosing whether to copy locked files as well as the option to select whether you want to transfer file and folder permissions when carrying out syncs. Users can also filter certain files from being synced.
My only issue with FreeFileSync is that it comes with bloatware bundled during installation. However, you can easily avoid the bloatware and the program is portable once installed meaning you never have to re-install it again — just copy + paste the program files on whatever computer you want to use them on. Plus, with its ease of use and fast sync times, you will be hard pressed not to recognize this program for the excellent piece of sync software it is.
Runner Up
Program Name: Synchredible
Developer: Ascomp Software
Download Size: 5.2 MB
Version Reviewed: 4.005
Supported OS: Windows XP/2003/Vista/Server 2008/7/8
Portable Version Available: No
Approximate Memory Usage When Idle: 2.49 MB
Time to complete initial sync (copying): 4 mins, 43 secs (with verification integrity); 3 mins, 37 secs (without integrity verification)
Time taken to complete secondary sync (addition): 23 secs (with verification) ; 20.75 secs (without integrity verification)
Time to complete tertiary sync (deletion): 7 secs
Discussion
Synchredible is a thorough and yet easy to use file sync program. It offers users several options in order to set up a synchronization solution which best suits their needs.
Synchredible operates via a straightforward wizard interface – simply select the options you wish to enable and click next. After selecting the pair of folders that are desired to be synchronized, users are then asked to select whether they wish to implement one way syncing, either in the direction of folder 1 to folder 2 – or vice versa – or two way syncing. I personally selected two way syncing as that best suited my needs – I wanted both folders to be identical with absolutely no differences. Users can choose to sync all files and can specify if they want to skip files with identical file stamps. The option is also provided for syncing only newer files, neglecting files with older timestamps.
In terms of the deletions aspect of the sync process users can also customize this aspect of the process. You have the choice of deleting files present in the target directory but not located in the source directory as well as sending deleted files to the recycle bin or moving them to another location. Synchredible also offers several options for neglecting certain files from synchronization such as hidden files or files that you simply hand-picked to leave out of the process.
In addition users can schedule for syncing to occur automatically or at specific scheduled times throughout the week and even after certain system events such as windows starting and on detection of a USB device being plugged in. Another great future is the ability for the user to specify certain actions such as the execution of a file or the opening of a program to be carried out before or after a sync event.
All syncs occurring between a pair of folders are called 'jobs' in Synchredibe and these 'jobs' can be placed into 'groups' of synchronization events which can all be run at once with a single command. Some other special features include being able to export all program options and sync options to a single file. Additionally you can toggle the ability to verify the integrity of files. Error messages can also be supressed during syncs, buffer size can be specified and a time lag for the update of files can be specified.
Synchredible as a well-rounded program and provides several options for easily syncing up any pair of folders which you wish to. My only two faults with the program are that setting up the wizard does take a little while to set up when initially setting up the program. It is not difficult but it took time to examine all of the options being offered. In addition, the sync times for Synchredible were a bit longer than the other offerings reviewed here today. However, given the great functionality offered, the wait is well worth it.
Honorable Mention 1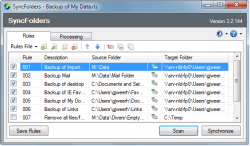 Program Name: SyncFolders
Developer: Gert-Jan Weerheim
Download Size: 1.05MB
Version Reviewed: 3.2.154
Supported OS: Windows XP, Vista, 7 and 8
Portable Version Available: No
Approximate Memory Usage When Idle: 9.28MB
Time to complete initial sync (copying): 3 mins, 8 secs
Time taken to complete secondary sync (addition): 19 secs
Time to complete tertiary sync (deletion): N/A — is not supported by program, I had to do it manually

Discussion
SyncFolders is a breeze to use and easy to set up. Its main window consists of two tabs which are Rules and Processing.
The Rules tab allows users to set up all of the parameters which specify how exactly they want syncs to be carried out including the selection of the folder pairs to be synced while the Processing tab displays information about the current sync being carried out such as the number of files to be synchronized as well as the time elapsed over a particular sync. Under this tab, users can also display details about a sync, see any errors which occurred, scan for similarities or differences between a folder pair and this tab is also where you initiate syncs from.
Now back to the Rules tab. SyncFolders carries out syncs based on a 'rules' system. For each folder pair you want to synchronize you specify a new set of 'rules'. The options for creating/editing rules files are as follows:
Create new rule
Edit rule
Copy rule
Delete rule
Rearrange rules
Renumber rules
Select all rules in the list
Clear all rules
The rule creation process is quite simple. Firstly, you specify the source and target folders and choose whether or not to include subfolders or not. Then you specify how exactly you want syncs to be carried out. The copy option allows for new and changed files in the source folder to be copied to the target folder. The Back up option creates a backup of the source folder. With this option, new and changed files in the source folder are copied to the target folder. Orphaned files and folder in the target folder are deleted and a database is created after the first sync of this type in order to keep track of any changes made overtime. The Synchronize option allows for new and changed files to be copied from the source folder to the target folder ad vice versa. A database is also created with this option after the first sync in order to track additions, changes and deletions made in both folders.
Users can choose to exclude certain files from being synced by specifying filters, choose what to do when sync confilicts pop up, specify what to do with deleted/overwritten files and are also provided with some advanced options. Users can choose to synchronize files which only exists in both folders of a pair, choose whether to attempt to synchronize locked files as well as specify whether they wish to verify sync results through hashing. Commands can also be input to be run before or after syncs.
Although not as customizable as FreeFileSync or Synchredible, SyncFolders has all of the options the average user will need to sync their folders – yes that sounds about right. Using no frills programs like this one is always a pleasure.
Honorable Mention 2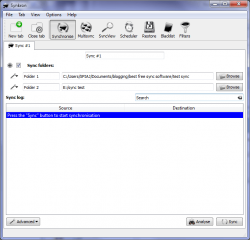 Program Name: Synkron
Developer: Matus Tomlein
Download Size: 5.32MB
Version Reviewed: 1.6.2
Supported OS: Windows XP/2003/Vista/Server 2008/7/8
Portable Version Available: Yes
Approximate Memory Usage When Idle: 8.41MB
Time to complete initial sync (copying): 4 mins
Time taken to complete secondary sync (addition): 18 secs
Time to complete tertiary sync (deletion): 3 mins
Discussion
Synkron's tabbed interface allows users to quickly find the options they need to set up successful sync.
The first task users need to carry out when starting Synkron for the first time is to create a new sync tab — which can be considered a secondary tab under the first functional tab which is the Synchronize tab. The two tabs before this one are tabs which add the secondary tabs to Synchronize. Multiple sync tabs can be created, allowing for multiple folder pairs to be synced. A sync tab can be closed at any time. After specifying source and target folders, users can analyse the two folders to check for similarities or differences and then go on to carry out a sync. There are also some advanced features which can be enabled such as 'propagation of deletions' which simply ensures that files deleted from the source folder are also deleted from the target folder.
The next tab is the Multisync tab which allows for the syncing of multiple source folders to one destination folder – quite the unique feature. It can of course be replicated by setting up multiple folder pairs each with the same destination but this way is less roundabout.
After Multisync is the Syncview tab. This simply shows users an overview of Synchronize and Multisync.
Scheduler allows for the automation of the synchronization process and Restore shows any files which were overwritten during a synchronization which are available for restoring and allows for them to be restored.
Blacklist allows certain files to be exempted from being synced and the Filters tab allows users to choose what type of file they wish to synchronize. Simply select the extensions of the types of files you want synchronized and only those types will be.
Overall Synkron is very well laid out and should be of great assistance to anyone wishing to sync folders.
Other Alternatives
Related Posts