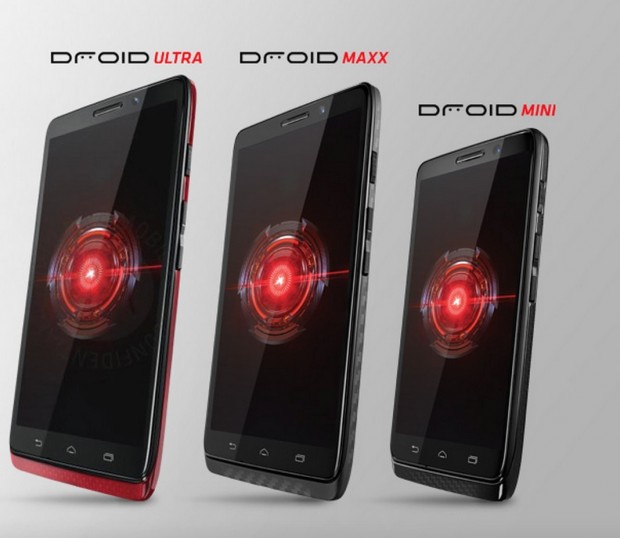 Around a week before Motorola's scheduled unveiling of the highly anticipated Moto X, the company has announced a trio of new phones coming exclusively to Verizon. Unsurprisingly, since this is Verizon we're talking about, the phones make up an entirely new Droid family.
However you might feel about the Droid brand, Motorola's new phones make up a pretty impressive lineup. The Droid Ultra and the Droid Maxx are actually kind of similar, but there's one key differentiator for the Maxx, also making it the most interesting of the bunch. The phone is packing a 3500mAh battery, and they're saying that this should give you nearly 48 hours of battery life on a single charge. 48 hours. On a smartphone. That's kind of insane.
Other than that and the fact that the Maxx is 8.5mm thin while the Ultra is 7.2mm, the two are basically the same phone. They both have 5-inch OLED displays at 720p resolution, a 10-megapixel camera and are powered by Motorola's own 8-core X8 system-on-a-chip. The Mini packs the same set of features (minus the monster battery life of the Maxx of course) in a smaller package, with a 4.3-inch LCD display.
The software on these new Droids are also quite interesting. The phones are supposedly running a near-stock version of Android, save for a few additions. The first is the DROID Command Center, which is a homescreen widget that will give you quick access to things like text messages, missed calls, battery level, weather and Wireless Display, another new feature that can mirror your phone's screen on compatible HDTVs.
Another neat addition is Quick Capture, which lets you activate your camera by simply shaking the phone twice , even while it's locked. Finally, Touchless Control allows you to control your phone without having to touch it by using voice commands. Just say "Ok Google Now" then the command. One example Verizon gave was "Ok Google Now, call my DROID," which will ring your phone for you if you've misplaced — a feature that will come in handy for many, I'm sure. Both features are also expected to show up in some form in the Moto X.
The Droid Mini will be priced at $99.99, the Droid Ultra will be $199.99 and the Droid Maxx will be $299.99. These prices come with a 2-year contract on Verizon. The Droid Maxx and Ultra will arrive on August 20th and the Mini will be available nine days later on August 29th.
Related Posts