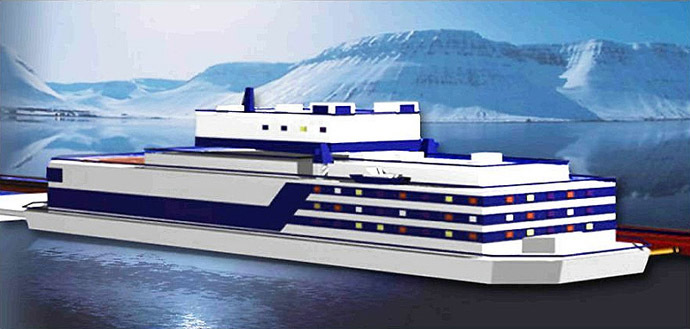 Russia is expected to press a floating nuclear power plant into service in the year 2016. The floating vessel is expected to provide electricity to remote locations in Russia where building a nuclear reactor is simply not feasible due to costs and safety hazards, according to Gizmodo and RT reports.
The ship will go by the name Akademik Lomonosov and is only part of a much bigger planned fleet of floating power plants which will be based on nuclear reactors found on currently operating ice-breaking vessels. These literal powerhouses will utilize two modified KLT-40 naval propulsion reactors which are capable of producing energy to the magnitude of 7 0MW of electricity or 300 MW of heat. The RT report estimates that this amount of energy is enough for a city of population around 200 000.
These ships can also be altered to produce desalinated water — around 240 000 cubic meters daily. Several other countries such as China, Indonesia, Malaysia, Algeria, Namibia, Cape Verde and Argentina have shown an interest in this technology.
Although as we know many people are concerned about the use of anything involving the word nuclear, the manufacturer of the ships insists that their vessels comply with regulations stipulated by the International Atomic Energy Agency (IAEA) which speaks to the prevention of the spreading of nuclear weapons. Additionally, the RT report states that the floating vessels are constructed such that they are immune to tsunami waves or any possible crashes which is a trump card in terms of safety.
I have my concerns about nuclear power but this could actually be a good idea.
[via Gizmodo, RT, image via OKBM]
Related Posts