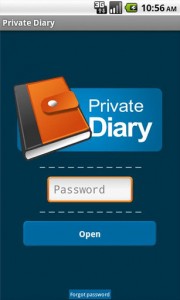 Keeping a diary or a journal can be very meaningful especially if you want to cherish those precious memories of your life. This is why apps like Private Diary Free are very helpful because instead of writing on a traditional notebook, you can use your Android device.
What Is It and What Does It Do
Main Functionality
Private Diary Free is a journal app for Android devices. It is free to download and it is developed by Mihalich DS Group. What this app does is that it basically allows you to keep a record of your daily life events, happenings and memorable experiences. It is your virtual diary. You can use it to express your thoughts, ideas and even your inner desires.
Pros
Easy to use
Nice UI design
Customizable appearance
Features a password-protect option
Syncs your data to your PrivateDiaryOnline account
Provides option for creating a backup file
You can filter your entries by tags or categories
Has an option for showing notes or entries within a specified date range
You can add emoticons to your entry titles
You can share your entries or notes via Bluetooth, Viberr or Gmail
Cons
The free version has limited features
You cannot restore your lost or corrupted files unless you purchase the app's full version
Doesn't support photo uploads
Discussion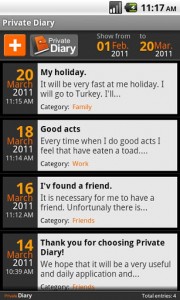 What makes Private Diary Free stand out from other diary or journal apps is its very nice UI design. It features a nice layout with a pleasant color theme and you can even change the color of the font. It also has a password protect option and if enabled, it will automatically sync your entries to your PrivateDiaryOnline account. If you do not wish to create an account at the said online diary service, you can simply skip that option but always make sure to back up your data by exporting your diary entries to your SD card. Unfortunately, if something goes wrong and let's just say that all of your entries were accidentally wiped out, you cannot restore them since you're only using the free version. You can only use the data restore option if you purchase the app's full version.
Still, even with limited features, the free version has all the basic tools that you need to create and organize your diary entries. For creating a new entry, you simply press the big plus button and then you fill out the required sections such as the category, the date, tags and even the emoticon. You're also free to write whatever you like may it be your daily activities, your diet routine and so on. The emoticon, however, can only be used once and it will be placed right beside the entry title. You cannot use it on the main context but it would be really nice if that feature would be included in the app's latest versions.
What I also like about Private Diary Free app is that the entries are so easy to sort out. This is because you can simply press the filter tool and then you select the entries that you want to show by category or tag. You can also show specific entries by date and all you need to do is to input the correct date range.
So far, the app has done a good job in keeping my private journal entries and it is very responsive. There weren't any significant signs of glitches and bugs. Furthermore, the app doesn't crash despite of having more than fifty entries. Its password protect feature will also keep your entries safe from unauthorized readers. As for those who wish to share some of their private entries, you can do so by simply pressing the "send" or share button in the app's menu. I also like the fact that the ads are unobtrusive. They're well placed so they don't really annoy you especially when you're trying to focus on reading your journal.
In general, I find the app very ideal for anyone who likes to keep a private diary or journal. It's portable and you can take it anywhere you like. It also works even if your device isn't connected to 3G or Wi-Fi.
Conclusion and download link
If it's a diary or journal that you need, I highly recommend that you download the Private Diary Free app. The features are limited on the free version but it has all of the basic tools that you need to manage your journal. After all, the other features that are present in the paid version are something that you practically live without.
Price: Free
Version reviewed: 3.6
Requires: Android 1.6 and up
Download size: 805KB
Private Diary Free on Play Store
Related Posts