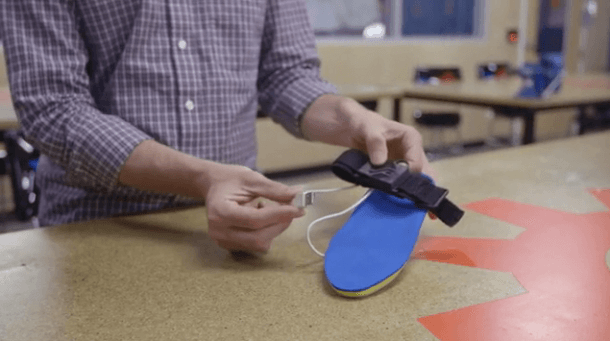 A recently started Kickstarter campaign has been started which aims to generate electricity using shoe insoles in order to charge mobile devices like cell phones, smartphones, tablets, etc. The project goes by the name of SolePower and was started by former Carnegie Mellon University students, Matthew Staton and Hahna Alexander while they were pursuing Mechanical Engineering studies.
The idea here is electricity is generated from the kinetic energy as a result of the swinging motion of the user's legs and stored in an external battery, which is then used to charge mobile devices.
The idea initially came about when Staton and his partner utilized the same principle in order to power an LED in a shoe in order to make students more visible while traversing their University campus at night. From undertaking that endeavor they realized the potential of their project, which is why they are looking for crowdsourced funding to bring the product to market.
As it stands, the current design is capable of providing enough energy to charge a smartphone after a two and a half hour walk. And the device will initially be geared towards an outdoors audience such as hikers and backpackers but the young company hopes to see the product go even further — assisting persons situated in remote locations as well as those caught up in natural disasters.
Issues such as sweating and water have been thankfully taken into consideration and the SolePower insert has been entirely waterproofed. Staton and Alexander have even consulted with podiatrists to ensure the comfort of persons utilizing the insole.
If all goes to plan and the company meets its Kicstarter goal, SolePower should be retailing somewhere in the region of $150 to $175 sometime between June and December of 2014.
[via Cnet]
Related Posts