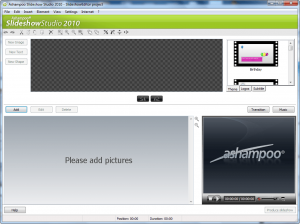 Ashampoo Slideshow Studio 2010 is a software that allows users to turn their images into animated movies (WMV only). Ashampoo Slideshow Studio 2010 features include:
Timeline editing with drag & drop and preview.
Cross-fades and graphical transitions between images.
Thumbnail preview for fades and transitions.
Add background sound for the entire show with multiple tracks.
Add titles, subtitles, shaped text.
Add images, logos and graphical shapes with fill, borders etc.
Fade-in and fade-out for all objects (images, texts etc.).
Rotate images directly in the editor.
Ready-to-use themes.
To get Ashampoo Slideshow Studio 2010, follow these simple directions:
Version of freebie: 2010 v1.0.0.24 (0166)
Suported OS: Windows XP and Vista. It also works fine on Windows 7.
Visit the Computerbild.de promotion page and click on .
Install Ashampoo Slideshow Studio 2010 after you have finished downloading it.
During installation you should see this: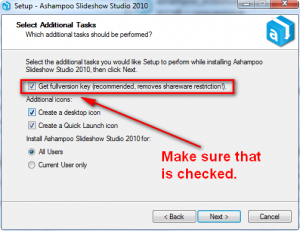 Make sure to leave "Get full version key…" checked.
After installation has finished the registration page should open in your web browser: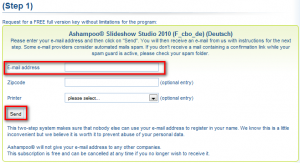 Enter your e-mail address and hit the "Send" button. We all know Ashampoo  spams so feel free to use the anti-spam services of Mailinator, 10MinuteMail, or Trashmail. Or, on the same note, if you already have an Ashampoo account just enter the e-mail associated with that account (you will have to login). Keep in mind Ashampoo does not accept Hotmail e-mail addresses.
Check the inbox of the e-mail you entered. There should be an email from "Ashampoo <MrReg@ashampoo.com>" with the subject of "Ihre Registrierung – Ashampoo® Slideshow Studio 2010 (F_cbo_de) (Deutsch)". In the e-mail you will find your activation key:
If the e-mail you entered has not been used with Ashampoo before, you will first have to verify your account before you get the above mentioned e-mail. In this case, you will have an e-mail from "Ashampoo <MrReg@ashampoo.com>" with the subject of "Registrierung (Schritt 1) … folgen Sie dem Link in dieser E-Mail." In the e-mail there will be a link you have to click on to confirm your account:

Click on the link. Then go back to your inbox to look for the e-mail that has the activation key.
Either run Ashampoo Slideshow 2010 or go back to it if you still have it open. You should be prompted to register the software – do so: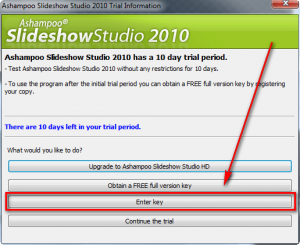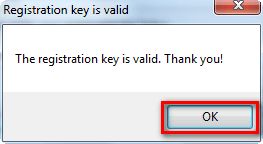 If you have trouble getting Ashampoo Slideshow Studio 2010, post below – I will try to help.
Related Posts