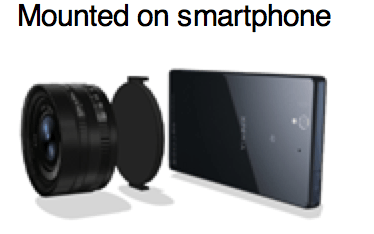 If this rumor turns out to be the real deal, Sony might be planning to shake things up in the smartphone AND camera industry. According to Sony Alpha Rumors, the company is working on a high-end camera attachment for your mobile devices.
Basically, they're making a high performance lens not unlike the ones found in their high-end compact cameras — for your smartphone. The lens would attach to the smartphone, and your smartphone's screen would act like a live view screen for the camera. This actually makes some sense because, while smartphone cameras have certainly been improving over the years, so have dedicated cameras. Your Xperia Z might be able to take some pretty decent pictures, but it most likely won't be able to compete with the images that a Sony RX100 Mark II can produce.
Speaking of Sony's latest top-of-the-line compact camera, the rumored lens attachment is actually said to be the very same lens found in the RX100 II: a 1-inch 20.2-megapixel Exmor R sensor and f/1.8 Carl Zeiss lens. In addition to that, the camera add-on will also have its own battery built-in, NFC and WiFi.
Take note, even if Sony Alpha Rumors says that two trusted sources have told them that this is definitely happening, it's nothing until official confirmation with Sony. So if this entire whole idea excites you, treat it with a grain of salt.
What do you think of Sony's crazy new camera attachment? Would you buy a product like this if it existed? After all, the best camera is the one you always have with you. Share with us in the comments!
[via Sony Alpha Rumors, The Verge]
Related Posts