Anyone remember my post on how to get your very own custom e-mail address for free? Well for those that don't, let me sum up really quickly: I posted about how users can get a free CO.CC domain, and use Google Apps to get their very own custom e-mail address. However at the time of my post, CO.CC was free for only the first year; afterwards users were forced to pay a $4 renewal fee. It looks like the owners of the company that runs CO.CC have had a change of heart because now users can get CO.CC for free for life – no upfront or renewal fees: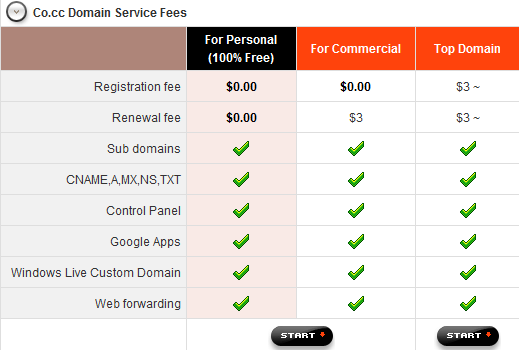 Of course, as you see by the chart, a free for life CO.CC domain is available for personal use only; commercial use will incur an annual $3 renewal fee. Also, note:
Not all CO.CC domains will be free. Some may cost money while others will not. For example: dottech.co.cc was free while helloworld.co.cc cost me $4 a year. If you search for a domain and the result shows that you must pay for it, simply search for a different domain name.
You can only have four free domains per account. I assume that if you create a new account you can register four more free domains, but I am not sure if that it is "legal" to create multiple accounts or not.
Every CO.CC domain comes with a CC.CC domain. While the CO.CC is fully customizable to fit your needs, the CC.CC is specific to being a "web store" and you cannot change that.
CO.CC comes with all the necessary domain management tools/settings allowing you to do many things with your CO.CC domain, including but not limited to creating a custom e-mail address, using the domain for your website, etc.
The great thing is, you don't need a credit card to create a CO.CC domain, although you do need to fill out a fairly extensive form when registering.
After you have created your free CO.CC domain, you can also get awesome paid web hosting from InMotion Hosting (dotTech favorite – I loved them when I was with them) or free web hosting from 000WebHost (never tried 000WebHost but their name keeps popping up when I hear about free web hosts).
So what are you waiting for? Go grab your very own CO.CC domain! To get started you can access the CO.CC homepage from the following link:
Thanks Peter!
Update: Wheezer brings up a good point about CO.CC's privacy policy. So I looked at the privacy statement. For the most part, I find it to be fine because they clearly state they will ask for a user's express permission when sharing private information with a third party.
However, I got a little bit uneasy when I read this part:

Only If We Have To As stated previously in this policy, we will not share your personal information except with a third party to assist us in the processing or securing of your personal information or when we are required by law unless we have given you notice and choice, in the good-faith belief that such action is necessary in order to conform to the edicts of the law, or we must comply with a legal process served on our web site. We may also need to give out your information if one of our partners requires it, but these situations are rare.
What makes me uneasy is the fact that at this point they are not clear if they will ask for express permission from you before they give out your information or not. I mean, before that part they are very clear that they will ask for express permission. At this part they are not. Maybe a lawyer can figure it out better.
That being said, I usually wouldn't encourage this, but if you don't feel comfortable with a company's privacy policy, they will never know if the information you entered is not accurate.
Related Posts