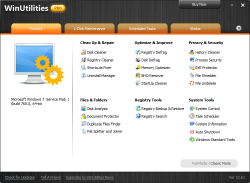 Most software tend to be single-focused, specializing in doing one task or multiple tasks related to the same generalized theme. Then there are so called "system utilities" or "system optimization software" — programs that have dozens of functions under one roof. One such program is WinUtilities. Let's see if it is worth your time.
What is it and what does it do
Main Functionality
WinUtilities is a "jack-of-all-trades-master-of-none" type program that has over 20 different tools and functions — features you would typically get by installing over a dozen different programs, such as junk cleaning, history cleaning, registry cleaning, secure deletion, file protection, and more.
Take note WinUtilities comes in two versions, Free ($0 — freeware) and Pro ($29.99). For a detailed analysis of the differences between WinUtilities Free vs WinUtilities Pro, check out dotTech's article on What is the difference between WinUtilities Free and WinUtilities Pro?. This review looks at both WinUtilities Free and WinUtilities Pro.
Pros
Jack of all trades…

Has many, many tools/modules (24 in Pro, 20 in Free — see this article for more details) including but not limited to registry cleaner, registery defrag, junk/disk cleaner, disk defrag, startup manager, secure delete, and EXE password protector.

Almost no learning curve — very easy to use
Automatically creates backups before doing any changes to registry and gives user options to create automatic backups for other tools such as the junk/disk cleaner.
Has a '1-click' system maintenance option that makes it easy to run multiple cleaning modules at the same time with one click
Users can schedule times when maintenance will run automatically (Pro only)
Each tool/features/module is treated as if it is independent of the others, so users can use multiple modules as the same time
Registry Backup & Restore creates non-proprietary .REG backups, so users can restore registry backup without needing WinUtilities

Note: Registry backups made with WinUtilities are stored in WinUtilities' folder under Program Files — you need to grab the backups from there if you plan on restoring without WinUtilities

History Cleaner has a "plugin" feature which users can use to define custom files/folders to delete
Cons
…But master of none:

Uninstall Manager is simplistic and not much different than the normal uninstaller run by Windows — is not a clean uninstaller
Memory Optimizer is mediocre
Startup Manager does not have the ability to delay startup programs or processes — only add/delete/edit
File Undelete is a simple MFT reader, does no real in-depth recovery of files

By default, Disk Defrag is set to analyze + defrag with one click of a button as opposed to first giving you the results of analysis then defragging (so you can judge if you need to defrag at all, prior to actually defragging). If you want the ability to just analyze, you can change the relevant setting from options. However if you change it from options then Disk Defrag will only analyze — it won't defrag after analyze and you must change the setting back if you want to actually defrag.
Document Protector claims that it "encrypts" files but does not tell us what form of encryption is used
History Cleaner cannot securely delete nor does it have the ability to ignore specific cookies
History Cleaner does not clean browser cache for Chrome and Opera (it does for Internet Explorer and Firefox)
Does not add entries into right-click context menu for easy access to features like secure deletion, document password protector, etc.

No offline Help
Developer is not very open or forthcoming; their About Us page on WinUtilities' website is generic bullshit and the information they provide in regards to WinUtilities Free vs WinUtilities Pro is superficial
Discussion
Generally speaking, "system utilities" or "system optimization" software are "jack of all trades but master of none". In other words, they are compilations of many different features yet none of the features can match up to the functionality provided by a specialized programs. What makes these "system utilities" attractive is the fact that all the features can easily be found in one package as opposed to the user having to download multiple different software. WinUtilities is a system utility/system optimization program that is no exception to this rule.
That being said, the best way to go about reviewing a software like WinUtilities is
See how reliable the software is;
See how many features the software has and how effective they are.
User friendliness is also a category to look at but most of these types of software are fairly straightforward with simple GUIs and wizards with every tool and WinUtilities is no exception so there isn't too much to discuss in that category.
So, lets begin.
Reliability
When it comes to software that claim to be able to repair and clean your registry, defrag your register, remove junk files, defrag your hard drive, etc. you want to make sure the software you are using is safe and reliable. In other words you want to be sure that your Windows won't crash and burn after you clean your computer with the program.
When trying to evaluate the reliability of a system utility, there are two major things to look for:
Does the software have any sort of "backup" or "undo" feature which allows users to undo anything they delete or change, or to restore a backup if something goes horribly wrong.
Does the software only delete/change files or entries that should be deleted or changed or does it delete/change major Windows files or registry entries and thus cause your Windows to crash and burn.
The latter point is more important than the former because, obviously, if you are not able to boot into Windows because the system utility killed your bootloader, for example, you won't be able to use the backup the software created to restore/fix your computer. However the former is still important because it provides a nice safety blanket.
For both criteria, WinUtilities passes with flying colors… for the most part anyway.
Firstly, it has a Rescue Manager which allows users to "undo" changes made previously. By default WinUtilities is set to automatically create "restore points" in the Rescue Manager when users use the Registry Cleaner and the Duplicate File Finder, and users have the ability to manually set WinUtilities to automatically create restore points in the Rescue Manager when using the Disk Cleaner (this option is found under Options when using the Disk Cleaner). However, there is no ability to create restore points for the Shortcuts Fixer, History Cleaner, or Registry Defrag.
It is not that big of a deal that the History Cleaner does not have the ability to create a restore point, but I would like to see the feature added for the Shortcuts Fixer and Registry Defrag mdules. It is worth noting all shortcuts deleted by the Shortcuts Fixer are sent to the recycle bin so a user may be able to recover shortcuts depending on if he or she emptied the recycle bin recently or not, and WinUtilities has a registry backup/restore module which can be used to manually backup the registry before conducting a defrag.
Secondly, in terms of only deleting/changes files or registry entries that should be/can be deleted or changed, WinUtilities ranks fairly high. Now, I say this with confidence because the best way to know if a program is reliable is to use it over time and see if it messes up your computer. I used WinUtilities for a very long time (although I don't use it anymore) and it never failed me; of course no software is ever perfect so don't think WinUtilities is 100% right 100% of the time (always use it with caution and a healthy level of skepticism), but WinUtilities is definitely one of the better ones in terms of reliability.
That being said there is one exception to what I just said and that is the Duplicate File Finder: many of the files found to be "duplicates" are in fact files that are needed by programs. To be fair, the problem with Duplicate Files Finder is not specific or unique to WinUtilities. By definition the idea of trying to find and eliminate all duplicate files on Windows is flawed; it just can't work because many programs have duplicate or similar files that are necessary… not just for fun or user forgetfulness. Still, it is something worth pointing out.
Features
As already mentioned, the point of a "system utility" software is that it is one software that comes packed with many different features you would otherwise need to download multiple other software to get. So the best system utility is the one with the most features… right? Eh, not necessarily. However, comparing features is still very useful because most system utilities has similar "core" features (e.g. registry cleaner, junk/disk/privacy cleaner, etc.); it is the peripheral features that are the ones users which will be interested in the most because one system utility may have a feature or two a user wants while another system utility does not.
In terms of the features for WinUtilities, it featured-filled although I can't say it has any one feature that is unique (i.e. you will be able to find most all features in other specialized software or in other system utilities). However, as I already said, the point of a software like WinUtilities is not to offer a unique feature but rather to offer many features. In other words, on a superficial level, quantity over quality — and WinUtilities has a lot of quantity.
In total, WinUtilities has 24 modules (aka tools or features) in the Pro version and 21 in the Free version (Free version lacks Registry Cleaner, File Undelete, Duplicate File Finder, and Task Scheduler — the remaining modules are the same):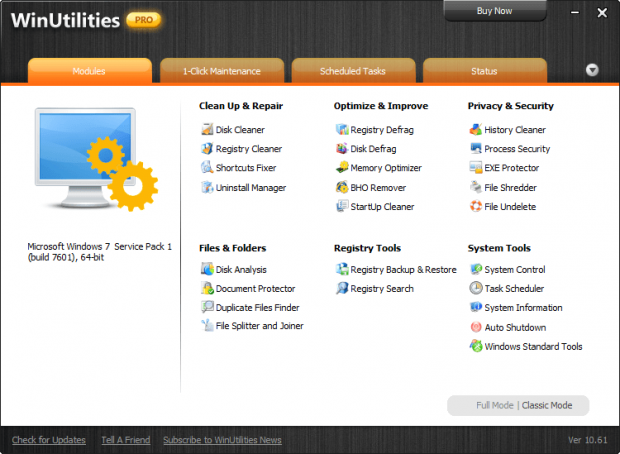 There is also a 1-Click Maintenance feature and the ability to schedule tasks to automatically occur (ability to schedule is available in Pro only — it isn't available in Free; 1-Click Maintenance is available in both Free and Pro):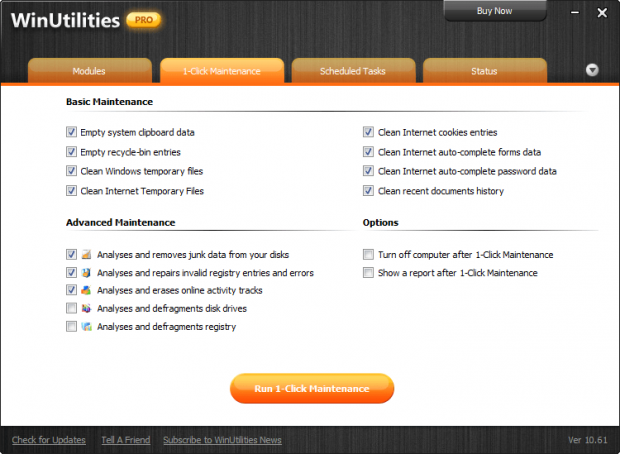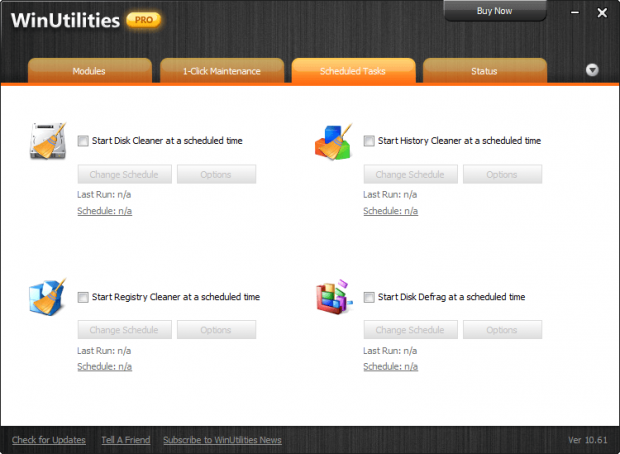 As you can see, WinUtilities is extremely feature-filled, and WinUtilities does not compromise function over form: most modules have a step-by-step wizard to guide you through the process of using them, and the modules that don't have wizards are fairly self-explanatory.
One of my four favorite aspects of WinUtilities is the fact that the Registry Backup & Restore creates non-proprietary .REG backups so users can restore the backups without having to have WinUtilities installed. The bad thing is each backup created is put in the C:\Program Files\WinUtilities\Data\ToolRegBackup folder so users need to manually go in and move the backup to another place if they plan on keeping the backup at a different location for safe keeping. Another downside to doing registry backups this way is the fact that .REG files are uncompressed; if WinUtilities used a proprietary format, it probably could have been compressed the backups. However, personally speaking, I prefer the non-compress and non-proprietary .REG method over compress and proprietary backup formats.
My second favorite aspect of WinUtilities is the EXE Protector. The reason I like EXE Protector is that it is a rare feature among other programs, although not 100% unique. For those that don't know what the EXE Protector is, it password protects any .EXE file. Whenever someone tries to run the protected EXE file, he or she is prompted to enter a password; if the password is entered properly, the person is able to execute the EXE. If not, they will be locked out. In other words, EXE Protector is a quick and painless way to control access to programs — and password protected EXEs stay password protected even on computers that don't have WinUtilities, meaning you can share the EXEs with others.
My third favorite feature of WinUtilities is the ability to empty Windows Clipboard (right-click on the system tray icon -> 'Empty clipboard'). I like it not because the feature is unique or rare (it isn't rare or unique) but because it is very handy.
My fourth favorite is the fact that users can run different WinUtilities modules/tools simultaneously. In other words, for example, you can be cleaning out your registry and shredding files at the same time. Do take note, though, to not run conflicting modules at the same time, otherwise you may create a problem for yourself. For example, you probably shouldn't be running the Disk Cleaner and Disk Defrag at the same time.
That all being said, In terms of performance, all the modules work as described. However, many WinUtilities features are skewed towards being simplistic and subpar, providing only basic functionality whereas specialized software work better in that specific area:
Conclusion and download link
I've been reviewing WinUtilities for roughly five years now, having first used it back in 2008. For the first few years, I watched WinUtilities grow and become better with each new update; in recent times, however, WinUtilities development seems to have stagnated, going from useful improvements to superficial cosmetic changes. Indeed, many of the criticisms I make of the program in this review I have been making for years but the developer still doesn't address the issues.
That being said, despite no major improvements over the past couple of years, WinUtilities is still one of the better system utilities out there. If you are looking for a jack-of-all-trades-but-master-of-none type program, WinUtilities is a strong candidate. The question, however, is should you use a system utility that provides more quantity than quality (in terms of features)? That decision is up to you but I personally prefer to use specialized software – such as CleanMem, CCleaner, Comodo Programs Manager, WinPatrol, Heidi's Eraser, AxCrypt, and Auslogics Defrag – because they perform better than WinUtilities in their specific areas, and I recommend you do the same.
Price: $29.99

Version reviewed: 10.61
Supported OS: Windows (2000, XP, Vista, Seven, Eight)

Download size: 5.9 MB

VirusTotal malware scan results: 0/45 (Free), 0/46 (Pro)

Is it portable? No
WinUtilities Free homepage | WinUtilities Pro homepage
Related Posts