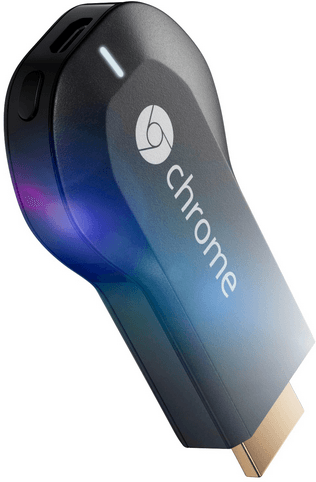 We all knew the Nexus 7 was coming, so Google's other announcement really stole the show. They introduced the Chromecast, which is a tiny device that you can plug into your TV's HDMI port then "cast" (stream) your online content from your phone, tablet, or laptop to your TV screen.
If you're familiar with Apple's AirPlay, what Chromecast does is very similar — only it's cheaper, cross-platform, and for online content (doesn't stream local files). There are actually two aspects to Chromecast: built-in apps and streaming.
Chromecast will launch with native support for Netflix, YouTube, Google Play Movies & TV, and Google Play Music. The company says that support for other apps is coming soon, like internet radio service Pandora.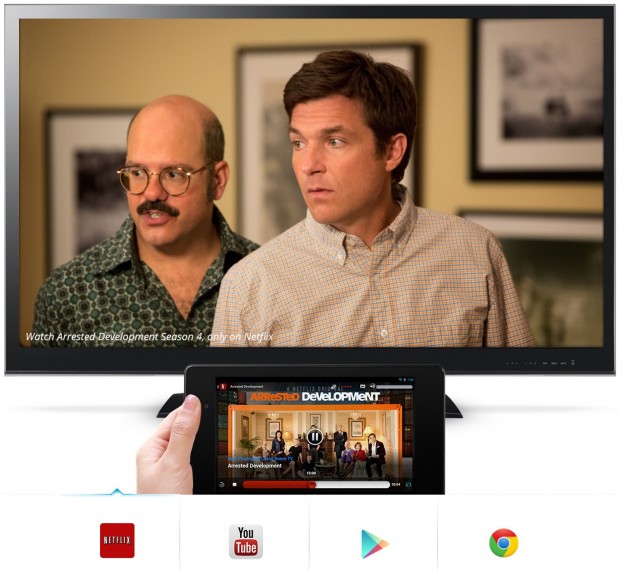 In addition to native apps, Chromecast allows you to stream any and all content from Google's Chrome web browser from your laptop, desktop, tablet, or smartphone. The best part? You can stream from Chrome browsers on any operating system — including Android, iOS (iPhone/iPad/iPod touch), Windows, Linux, and Mac OS X. The specifics of exactly what type of content you can stream from Chrome haven't been provided but it looks like the idea behind streaming from Chrome is whatever you see in a Chrome tab on your computer or device, you should be able to stream to your TV — this includes TV shows, movies, music, games, and more. We will learn more as to the limitations of Chromecast once people actually start using the Chromecast.
When you start "casting" something to your TV screen, your device will also function like a remote that you can use to play, pause, control the volume and more. You can also continue to multitask on your device while using Chromecast.
But perhaps the biggest advantage of Google's new gadget is its price. At $35, it's easy to purchase even if you're just slightly interested in what it can do. What is probably the only drawback compared to other solutions would be the inability to play local files. But as content increasingly moves online, that might not even be an issue for many. Plus, I'm sure some clever developer will come up with a plugin for Chrome that allows you to play local files  inside Chrome… which you can then stream to your TV using Chromecast.
Google's Chromecast is now available for purchase on the Play Store if you're interested; it can also be bought from retailers like Best Buy and Amazon although they appear to be sold out at the time of this writing. Unfortunately Chromecast appears to be available only in the US for the time being, but it is available on eBay for people outside the US.
[via Google]
Related Posts