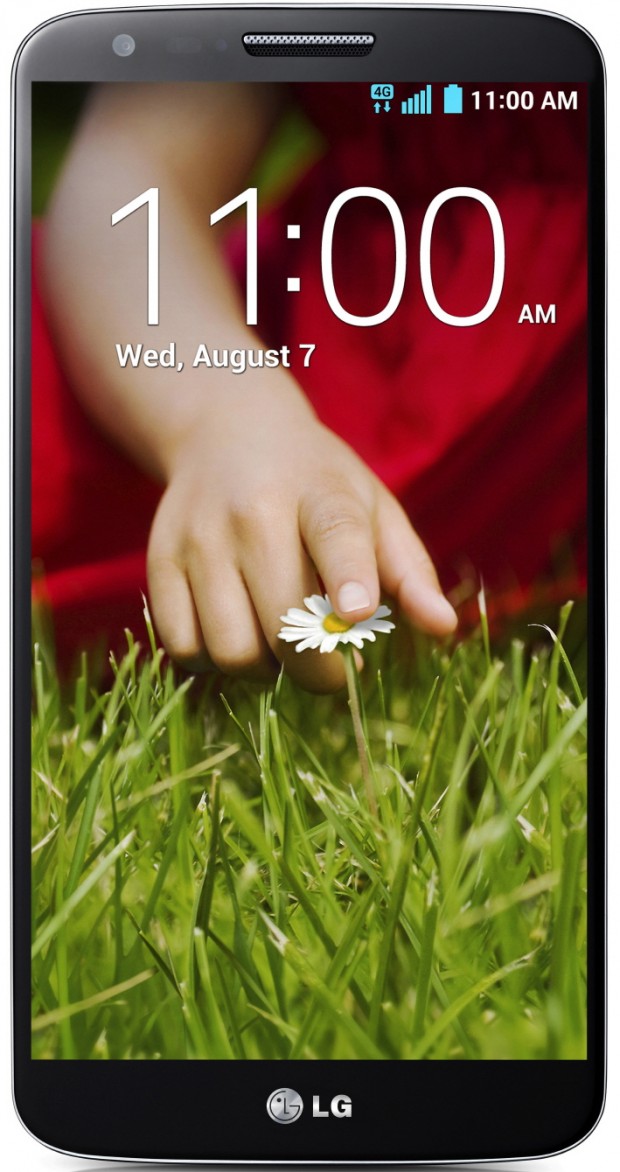 LG officially announced its newest flagship Android phone in New York today, the LG G2. Now because we've actually seen this phone before, there are a few other things about the G2 that might sound familiar.
But before we get to that, let's go over the G2's specs. First, you might have noticed that LG has dropped the Optimus-branding for their flagship handset and opted to go for the simpler G2, a smart decision since it should be easier for people to remember.
It has a 5.2-inch 1080p display and even if that sounds slightly larger than Samsung's Galaxy S4, you probably won't feel it. That's because the bezels on the G2 are so thin that it can retain a similar size to the S4 yet still accommodate a slightly larger screen.
It's powered by a quad-core Snapdragon 800 processor and 2GB of RAM, so using the phone and running apps should prove to be smooth and snappy. It's also got a 2-megapixel front camera and a 13-megapixel rear with an optical image stabilizer which should help minimize blurry photos.
The G2 also has one distinct physical aspect to it: There is only one physical button on the device, and it's located on the back. The single button sits between the volume rocker and serves multiple purposes. Whether or not that will prove to be an advantage for the device remains to be seen, but it's nice seeing the front free of any physical buttons.
In terms of software, LG has gone with an approach that is very similar to the Galaxy S4. The phone runs Android 4.2.2, but you wouldn't really notice because of LG's heavy skinning of the OS. They've also thrown in a multitude of software features, some that might be useful and some that are more of a gimmick than anything else.
One of those useful additions is a neat way of handling guest accounts on the phone. Instead of having to manage a separate account, with a separate password to access, the G2 allows you to set a different unlock pattern for guest use and a different pattern for personal use. So if you wanna hand over your phone to a friend for them to use but don't want them to have access to every part of your phone, just use the guest mode's pattern.
LG's approach to software being similar to Samsung's is definitely not an accident. The LG G2 is undoubtedly the company's answer to the Galaxy S4. It matches it well specs-wise, they've thrown loads of software to the point of being almost overwhelming, and you could even say that the phones look a little alike in some ways. But will the little things LG has brought to the table with the G2 be enough to help it compete with the Galaxy S4, and Samsung's massive marketing budget?
The LG G2 will first be released in the company's home country of South Korea, followed by the US, Europe then the rest of the world. No pricing or release dates were announced.
What do you think of LG's newest flagship phone? Let us know in the comments!
[via LG]
Related Posts