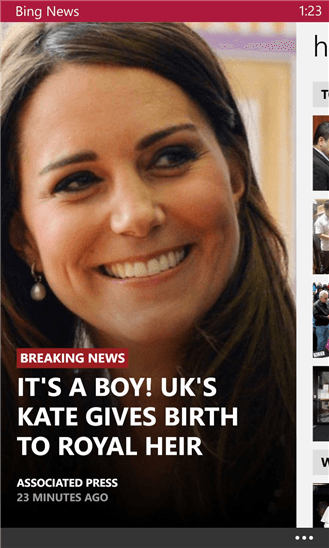 After what seems like forever, Microsoft has finally brought its Bing Weather, News, Sports, and Finance apps to Windows Phone 8. The mobile versions of the apps are near identical to the versions on Windows 8, which proves apps on Windows 8 can easily be ported to Windows Phone 8 with little to no loss in features and overall quality.
The Bing Weather app isn't the first of its kind from Microsoft for its Windows Phone platform, but it is the best one yet, and might even be the best Weather app in the Windows Phone store right now. The app allows its users to do everything that is capable of on the desktop from the same animated weather maps to support for multiple places.
Bing Finance is just what you would expect, a typical finance app that allows for checking stocks, keeping up with shares and what's going on in the world of business. It's what you'd expect if you're a regular user of the Bing Finance app on Windows 8, nothing more nothing less.
Next up we have the Bing News app. As you might expect, it's very similar in design and features when compared to the Windows 8 version, so you should feel right at home. You have the option to reorder, edit, and add sources as usual, though we wished Microsoft would have done a little bit more.
Finally, the Bing Sports app for all the fans of sports related activities out there. Users have the option to choose their most beloved teams across NBA, MLB, NHL, NFL, the English Premier League and more.
After taking the apps for a spin, we wished we never had to customize these apps all over again. Microsoft needs to allow for settings synchronization across the same apps on Windows 8 and Windows Phone 8 before for a seamless experience going forward.
[via Bing News (Windows Phone 8 store), Bing Weather, Bing Sports, Bing Finance]
Related Posts