Sometime in the near future, we may no longer need to leave our homes to purchase… anything. After expanding it's online grocery service a few months ago, Amazon is now looking to tackle a different kind of marketplace — fine art.
Amazon Art is the online retailer's newest portal which will allow users to browse through "more than 40,000" pieces of fine art from over 4,500 artists. Amazon has partnered with numerous galleries, including Paddle8 in New York, Holden Luntz in Miami, McLoughlin Gallery in San Francisco, Modernbook in San Francisco and Catherine Person Gallery in Seattle.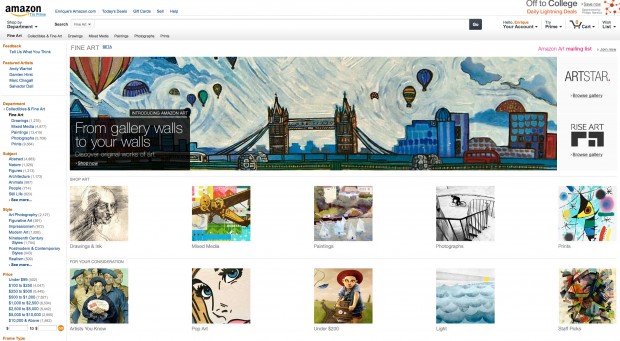 According to The Wall Street Journal, Amazon planned to open the fine art market place last month but was met with disinterest from the art community, many of which felt concerned that the website wouldn't be able to properly represent the works of art to sell them. The report also mentioned that Amazon will be taking a 5 to 20 percent cut from sales.
If you're interested in perusing Amazon's art portal, you can do so from the link below. Just make sure you don't accidentally purchase Norman Rockwell's "Willie Gillis: Package from Home," that thing costs $4.85 million. Yikes.
[via Business Wire, The Verge]
Related Posts