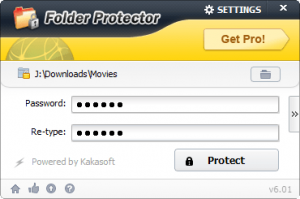 Whether you like it or not, there's always a possibility for your files to fall into the hands of unauthorized users. Who knows? At some point in time, it might be too late for you to realize that your files were accidentally copied or in the worst case scenario – stolen. Before this happens, you better start looking for a reliable tool that could lock and encrypt your folders. Speaking of which, the Kakasoft Folder Protector has the ability to secure your folders using its advanced file encryption method.
What Is It and What Does It Do
Main Functionality
The Kakasoft Folder Protector is a portable folder lock application for Windows. It is created and developed by KakaSoft Software Co., Ltd. With this software, you can easily use a secure password to lock your important folders. Once locked, your files and folders will automatically become inaccessible, unmovable and undeletable. No one else is allowed to view or edit your files except for those who can successfully provide the correct password. Not only that, this software also has the ability to scramble and encrypt your files and folders.
Pros
Easy to use
Portable, no installation required
Features three security methods – lock, encrypt and scramble. It is also up to you if you want to set the security level to normal or high.
Once the folder is locked, it cannot be moved or deleted.
Provides an option for password recovery – only applicable to folders that were locked under the "normal" security level
You can use this software to password protect the folders on your USB flash drives, memory cards, external hard drives, etc.
Locks your folders instantly – just right-click on the folder that you want to lock, select the option for "Folder Protector", type your preferred password and you're all set!
You can prevent other users from using the software by setting your preferred login password. This is your master password.
Supports multiple languages including Korean, Japanese, German and French
Provides a Help and How-To page for new users
Cons
You cannot protect your folders using the "highest" security encryption level in the "free" version. If you want to encrypt your folders using the Kakasoft Folder Protector's 256-bit AES Encryption, you need to purchase its full version for $19.95.
Has a "free" version but is not really free; the free version never expires but it is limited in features and you constantly receive a nag message to upgrade to the paid version
You cannot skip the trial reminders – you need to wait for a few seconds before you can close the software's nag screens
The software won't allow you to change or update your login password
The password recovery option is only applicable for the "Normal" security setting. If you locked your folder using the "High" security level, there is no way for you to recover your forgotten password.
The password reset option is only available to those who purchased the software's full version.
Discussion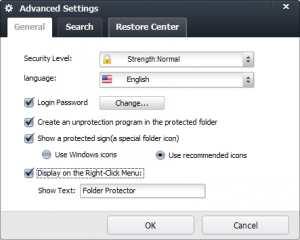 The Kakasoft Folder Protector does not require any tricky installation. Since it's a portable application, all you need to do is to download its executable file to your computer. Before using this software, I highly recommend that you read its Help File first. This will allow you to learn the basics when it comes to using the software. I also recommend that you set its Advanced Settings first before you start encrypting your folders. This way, you will be able to set and activate your login password and you will also be able to set your preferred security level. You should also keep in mind that there's no way for you to retrieve or recover your login password. So if you want to enable this feature, you better think of a secure password that you can easily remember.
In the "free" version of the program, you are only allowed to lock and encrypt your folders under the "Normal" and "High" security levels. The "Highest" level, which uses the advanced 256-bit AES Encryption, is only available to paid users. Nonetheless, the level of security that this software offers is already good enough to keep your files and folders safe from unauthorized users.
What I like most about this software is that it completely locks your files and folders. This means that the locked folder becomes totally inaccessible and undeletable. So even if you know the file's exact directory location, you won't be able to open it unless you know the correct password. Besides, the only way for you to retrieve your folder's password is via email. This software also doesn't allow its free users to use the password reset option. So if ever someone attempts to open your locked folders, they obviously need to go through the whole "password-cracking" process. This type of folder lock method is quite useful especially for those who are using a shared computer.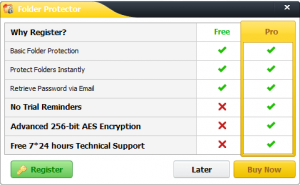 Furthermore, the process of unlocking your folders is so simple. Just double-click the lockdir.exe file on your protected folder then enter the correct password. You can also opt to temporarily "unprotect" your folder. This option is very helpful because you do not need to provide or create a new password. The software will simply restore your folder to its locked state.
The Kakasoft Folder Protector may be reliable enough to protect your files but it still has a couple of drawbacks. First of all, it appears that there is something wrong with its login password setting. I tried changing its default password but it won't accept the new one. That's not all. There's also no way for you to reset your folder's password unless of course, you decide to purchase the software's full version. You also won't be able to retrieve the password of the folders that you've encrypted under the "High" security level. Apart from these drawbacks, you also need to tolerate this software's constant trial reminders. As a matter of fact, you need to wait for at least 8 to 15 seconds before you could close its nag window.
Conclusion and Download Link
Compared to other folder lock applications, I would definitely choose the Kakasoft Folder Protector because it's very easy to use plus it's portable. It is also very reliable and it is well-suited for users who are not that well-versed with computers. The only issue with the program is it isn't free/freeware… but if you are willing to either put up with the nag messages in the "free" version or are willing to shell out money, this program is worth it in my opinion.
If you are looking for a real free/freeware program that can lock folders, check out My Lockbox, Private Folder, Folder Locker Free, Free Hide Folder, or read dotTech's guide on how to password protect folders on Windows without installing a third-party program.
Price: $19.95
Version reviewed: 6.15
Supported OS: Windows 8/7/Vista/2003/XP/2000
Download size: 1.5MB
VirusTotal malware scan results: 0/45
Is it portable? Yes
Kakasoft Folder Protector homepage
Related Posts