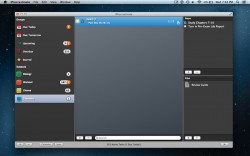 At this point, I'm not really interested in using a to do list or task management app that isn't cross-platform. Even though I do most of my work from home, I like being able to make adjustments to my to do list on the go with my phone, as well as on a desktop client. Whether want to stay on top of your school assignments or track important assignments at work, a tool like iProcrastinate can help you at work and on the go.
What is it and what does it do
Main Functionality
Available for both Mac and iOS devices, iProcrastinate is task management tool. Ideal for both students and those who work full time, iProcrastinate allows users to access a calendar, create recurring tasks, and add priorities to your agenda items.
Pros
Cross-platform — works on Mac OS X and iOS
Plays nice with Dropbox
Attractive user interface
Rank tasks as "high" or "low" priority
Break up larger tasks into sub-tasks
Link files to certain tasks: great for linking a homework assignment or spreadsheet to a specific task due date
Easily create backups
Cons
Syncing between devices requires the two devices to share the same WiFi network
Discussion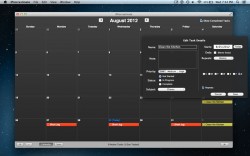 From a design standpoint, iProcrastinate is quite an attractive app. The color palette and interface design are very welcoming, and this app just feels like the sort of tool you want to settle in with and fill with your tasks and to do list items. The overall layout just feels intuitive.
When you access the app, you can easily sort your tasks using tabs along the left hand side. This makes it easy to see what's on the docket for today and tomorrow. You can also view "Upcoming" tasks, "Overdue" tasks, or all tasks. You can also star important items that are either high priority, or perhaps use these tasks to indicate long-term goals.
If you prefer a calendar view, you can use that view instead of sorting tasks into groups by due date. If you've positively packed your iProcrastinate interface with tasks, you can use the search bar to quickly cut through the clutter.
By far, the most unique feature of iProcrastinate for Mac is the ability to link a file on your hard drive to a specific task. This makes it easy to quickly retrieve one or more documents related to that task. You could link a paper draft and a presentation outline to a task related to a term paper presentation, or link a PowerPoint presentation and spreadsheets to a task for going to a business meeting.
Conclusion and download link
For students and office workers alike, iProcrastinate is a solid tool for tracking tasks, projects, due dates, meetings, events, and more. The interface is straightforward and attractive, and this is a great tool for staying on top of your life. As far as task management tools go, this to-do list Mac App is a good tool.
Price: Free
Version reviewed: 1.6.7
Supported OS: OS X 10.7 or later

Download size: 1.2 MB
iProcrastinate on Apple App Store
Related Posts