One of the biggest problems with storing lots of high resolution images is that a lot of them take up quite a bit of space. There are plenty of ways to mitigate this problem. You can do so by resizing the images, compressing them into a smaller format, or even cropping out unnecessary portions. TinyPic is a remarkably simple and efficient resizing tool for Windows that helps you shrink photo sizes.
What is it and what does it do
Main Functionality
TinyPic is also a tiny application. It's designed to shrink images down to a feasible size. If you're storing a lot of high resolution images then this app is an effective way to save some precious storage space.
Pros
Small yet efficient app for resizing images to conserve storage space
Drag and drop support for images
Predefined image sizes in the free version
Consumes few system resources
Cons
Free version does not allow you to customize your own image sizes
Discussion
TinyPic must be installed in order to use, but the good news is that there's not bloatware or dodgy software to deal with during the install process. That being said, there is a premium version of the app available for purchase. The freeware version is only acceptable for personal use, commercial users must purchase the paid version for 10 Euros (roughly $13).
The premium version, TinyPicPro, includes the following extra features:
Freely selectable image size
8 predefined image sizes with right mouse click
JPEG-quality adjustable
Changing the image compression without resizing
Resizing also for gif images
1:1Preview to check the result quality
Comparison of converted image and result

As for the freeware version, it performs just fine and will be suitable for most users. The UI is a little bland, but you could consider it retro themed- hipsters should love that.
In the free version you cannot choose a custom resize format, instead you're allowed to select from a list of predefined formats. There are four sizes to choose from, unless you count the "extra small" toggle which will return extremely low quality results.
You can preview the output file before the process is completed, and assign a target directory for storage. Other than that, there's nothing else to really do in the app.
Images that you want to resize can be dragged and dropped into a small portion of the window at the very bottom. You can also browse for a file through Windows explorer.
In general, TinyPic will trim images down by about 20% in terms of file size with little to no loss in quality. Although, you are shrinking the resolution size which means less detail in the resulting file. Zooming in with the trimmed file will not yield the same results as the original.
For reference, TinyPic uses about 4.7MB of RAM while running, which means it's light on system resources.
Conclusion and download link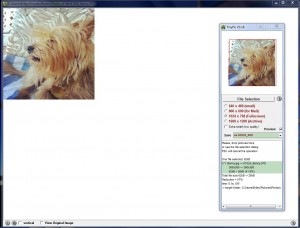 TinyPic is a remarkably simple application that serves a single purpose, to resize large images quickly and efficiently while mitigating any sort of quality loss in the process. It works well, and it uses very few system resources while running. The free version only allows you to use predefined image sizes, but they should be suitable for most users. If you want more customization in terms of resolution, the premium version is only about $13. Check out TinyPic if you need this type of functionality.
Price: Free, 10 Euros (Approx. $13)
Version reviewed: 3.18
Supported OS: Windows 8/7/Vista/XP
Download size: 1.45MB
VirusTotal malware scan results: 0/45
Is it portable? No
Related Posts