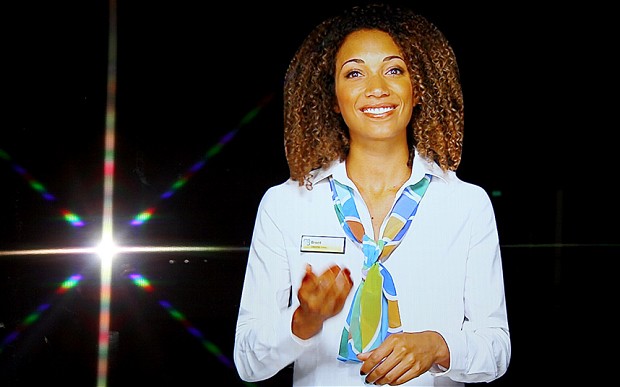 Meet Shanice, the perfect receptionist any employer could ask for. She will never pull sick days, ask for a day off or a bathroom break. Additionally, she will always be punctual and polite unlike some receptionists we have come across. Wondering why she's so perfect?  That's because she's a hologram receptionist.
This hologram receptionist is a new investment by Brent City council offices in North London. It is believed to cost £12,000 (~ $18,000) but the council officials claimed that it is cheaper than hiring a human receptionist and also pointed out that they could save up to £17,000 (~$26,500) a year.
James Denselow from Brent Council said:
"The best thing is it's going to save us lots of money, without compromising our service. Nowadays we're constantly having to look at innovative ways to cut costs and they don't come more cutting edge than Shanice."
However, just because Shanice can work long hours and doesn't need a break, that doesn't mean she's perfect in every way.
She can only answer limited number of questions, and would need to be reprogrammed whenever she learns something new. Basically, the city council doesn't really save any money. What's more Shanice can never replace a human receptionist. She will never be able to process complex requests and will always be limited to her script. In other words, Shanice suffers from the same issue other AI do: they aren't intelligent enough, yet.
The below video demonstrates how she works and a few sample questions she can answer.
[via  Telegraph UK]
Related Posts