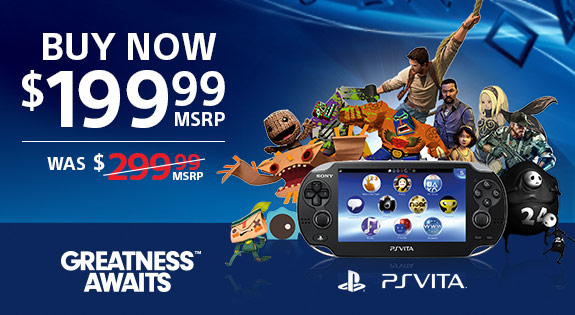 In addition to announcing a release date for the PlayStation 4 (November 15th!), Sony also made some pretty big announcements regarding its handheld gaming device, the PS Vita.
The first thing, which people have been clamoring for since the launch of the device, is a price drop. The PS Vita is going from $299 to $199. That's a hundred dollar price drop that puts it right next to Nintendo's 3DS XL, its closest competitor. The price drop also makes it significantly cheaper than a PS3 (or PS4), unless you're talking about the recently announced $199 12GB PS3.
Another thing that's getting a much-needed price drop are the memory cards for the PS Vita, which are still on the more expensive side:
| | | |
| --- | --- | --- |
| Memory Card Size | Previous Price | New Price |
| Memory Card for PS Vita 4GB | $19.99 | $14.99 |
| Memory Card for PS Vita 8GB | $29.99 | $19.99 |
| Memory Card for PS Vita 16GB | $59.99 | $39.99 |
| Memory Card for PS Vita 32GB | $99.99 | $79.99 |
The next thing — which is also important since you're gonna need something to play on a PS Vita — are the games. Sony announced a slew of new Vita games including a portable version of Borderlands 2, Fez and the ultra-popular Minecraft. But the real highlight in the games lineup are the indie titles, of which there are very, very many:
Age of Zombies (BlitWorks/Halfbrick)
A-Men 2 (Bloober Team)
Assault Android Cactus (Witch Beam)
Avoid Droid (Infinite State Games)
Broken Sword: the Serpent's Curse (Revolution Software)
Eufloria HD (Omni Systems)
Fez (Polytron Corporation)
Final Horizon (Eiconic Games)
Flame Over (Laughing Jackal)
Gravity Crash Ultra (Just Add Water)
Gunslugs (Abstraction Games)
Hotline Miami 2: Wrong Number (Dennaton Games and Devolver Digital)
Joe Danger 1 (Hello Games)
Joe Danger 2 (Hello Games)
Kick & Fennick (Green Hill Studios)
Rogue Legacy (Cellar Door Games)
Samurai Gunn (Teknopants)
Supermagical (Tama Games)
Switch Galaxy Ultra (Atomicom)
Table Top Racing (Ripstone)
The Binding of Isaac: Rebirth (Nicalis)
Volume (Mike Bithell)
Wasteland Kings (Vlambeer)
Finally, Sony announced that almost every PS4 title will be playable on the PS Vita via Remote Play WiFi streaming, much like the Wii U's GamePad. This means as long as they're on the same WiFi network, you can continue to play your PS4 games on your PS Vita — perfect if someone needs to use the TV.
With all these new games, the promise of Remote Play streaming and a much more reasonable price, the PS Vita is hard not to recommend to a gamer that's looking for their mobile fix but want more than what smartphones currently offer.
[via PlayStation]
Related Posts