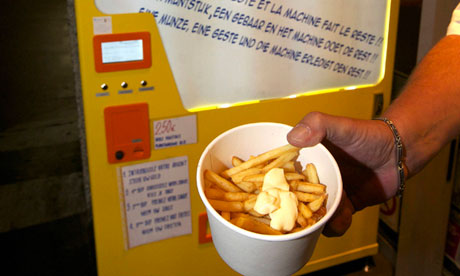 There are many types of vending machines in the world. Among many countries, Japan has the highest number and many different kinds of vending machines — such as the one that sells bras — but this time we are turning our heads to Europe. Belgium claims that they got the world's first fries vending machine even though similar vending machines have been tested in other countries such as Romania and India. The only difference is that since it is from Belgium, fries are cooked in beef fat instead of vegetable oil.
To buy fries, you need to pay €2.50 (~$3.30) for a 135g portion and within 90 seconds, you will have your fries, a fork and your choice of topping of mayonnaise or ketchup.
According to The Guardian,
Belgians say frites were invented in the late 17th century and blame the French fries reference on British and American soldiers fighting in French-speaking areas of the country during the first world war. Another more esoteric explanation from Belgium's tourism chiefs is that the name came from a linguistic misunderstanding – in old English "to French" meant to "cut into sticks".
Would you try this if it came to your town? Or would you prefer buying at fast food joints or restaurants? Let us know in the comment section below.
[via The Guardian UK]
Related Posts