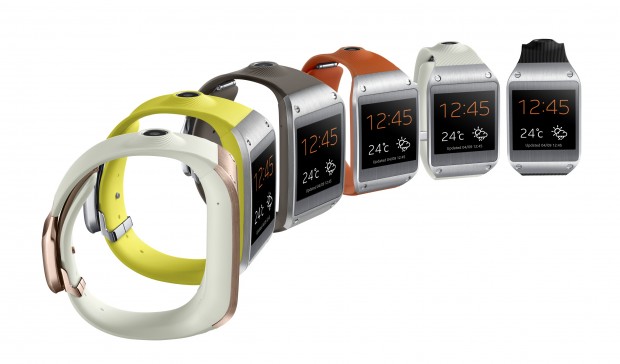 After all the rumors and leaks, we now have an official look at Samsung's smartwatch. It's called the Galaxy Gear, and instead of being a standalone device, will work more like a companion to your current or future Galaxy devices.
The Galaxy Gear is also pretty well-equipped for a watch, as it comes not only with a screen that can display notifications, apps, and even video, but it also has its own 1.9-megapixel camera and built-in speaker. The camera allows you to snap pictures and shoot 720p video, while the speaker lets you take phone calls with the Gear — just hold it up to your ear, like in a sci-fi movie.
The Gear is packed with a 800 MHz Exynos processor, 512GB of RAM, 4GB of internal memory, a 315mAh battery and of course, the 1.63-inch Super AMOLED display at 320 x 320 resolution. According to Samsung, that battery should last you more than 25 hours. Not exactly great battery life for a watch, but not so bad considering all the stuff in the device.
You'll use Bluetooth to connect the Gear to your smartphone, but it'll have to be one of Samsung's compatible devices. The Galaxy Note 3 and the Galaxy Note 10.1 2014 Edition (what a name!) are compatible out of the box, while the Galaxy S4, Galaxy S III and Galaxy Note II will be receiving software updates in the next month.
Once connected, you'll be able to do things like take calls, see messages, control music playback and record photos and videos. But Samsung's made things even more interesting by gathering a fairly impressive number of apps that will run on the Gear. Some of which include: Evernote, eBay, Line,, Path, Pocket, RunKeeper and TripIt. There will also be built-in applications from Samsung like a pedometer and voice memos.
The Galaxy Gear will be available in a multitude of color combinations, but as far as I'm aware, the wrist bands are not replaceable since they house the camera and the speaker. It will launch around the world later this month, then in the US in October for $299.
What do you think of the Galaxy Gear? Share with us in the comments!
Related Posts