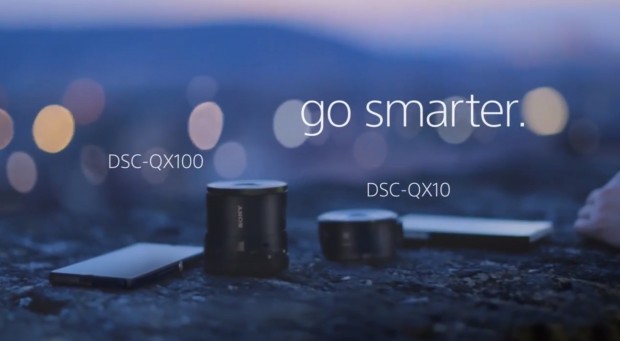 Remember that crazy rumor about a Sony lens attachment for smartphone? Well, it's real, it's here and it's pretty awesome. Sony announced the Qx100 and QX10 during its press conference a Berlin and it's exactly what we imagined it to be.
The QX Smart Lens are basically cameras — they've got their own image sensor, processing chip, battery and memory card slot. But what they are missing is a viewfinder. That's where your smartphone comes in. The QX100 and QX10 connect to almost any smartphone via WiFi, after which the phone's screen can be used as a viewfinder and a controller for the camera. Check out this ad to see it in action:
Both models can be paired via NFC and they'll be compatible with Android and iOS devices. The pictures are transferred to your smartphone via WiFi to Sony's PlayMemories app, while full-sized images are kept on the lens itself, which can use both microSD and Memory Sticks for storage.
The QX100 comes with a 1-inch 20.2-megapixel CMOS sensor, can shoot 1080p videos at 30fps, has a maximum ISO of 6400 and a 3.6x optical zoom. It'll cost $499. The QX10 on the other hand has a 18.2-megapixel with a lower maximum ISO at 3200, as well as a cheaper price tag of $250. The QX10, however, will have a 10x optical zoom.
They won't be replacing DSLRs in terms of quality anytime soon, but for anyone looking to move up in image quality should be pleased with its performance. It's an interesting experiment by Sony, and while it sounds like a crazy idea, it also makes a lot of sense. I'm very tempted to pick one up myself when they come out later this month.
Related Posts