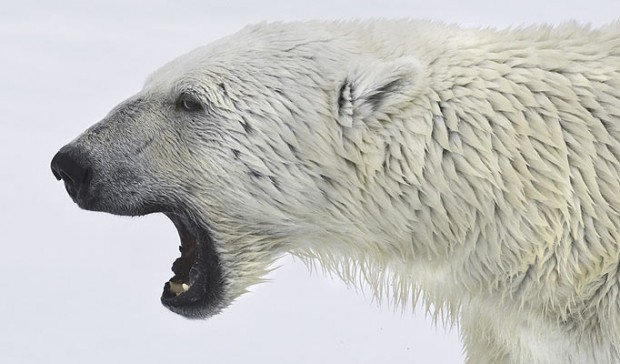 It started as a normal day in Churchill, Manitoba. Garett Kolsun was just walking home Saturday morning when… he was attacked by a polar bear.
The bear had Kolsun against a door and started hurting him (duh). "I didn't know where else to go. I was just (thinking), 'what can I do to get away from this bear?' That's all I kept thinking about. I didn't want to be a stat." Kolson told CTV News.
Kolsun thought he was "doomed" until he pulled out his cellphone and lit the screen to the bear's face. It startled the animal and Kolsun was able to get away. He ran "several blocks," hoping to find some people. By the time he found those people, the bear had stopped chasing him.
The bear was captured later that day and taken to the provincial bear jail in Churchill and currently being assessed by Conservation Manitoba.
What I want to know is: what type of phone did Kolsun have? I'm sure companies would die (no pun intended) for the opportunity to market their phone as an anti-polar-bear device.
[via CNET, CTV News and Image via The Sun]
Related Posts