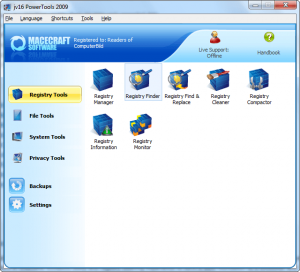 Everyone knows about Tuneup Utilities, WinUtilities, Glary Utilities, WinOptimizer, and Advanced SystemCare. However, only a handful, lucky few know about jv16 PowerTools. That is a relative shame because jv16 PowerTools is a powerful, reliable, and feature filled system utility/optimizer similar to the other five I just mentioned. Well no worries; let me introduce you to jv16 PowerTools and then I will tell you how you can get jv16 PowerTools 2009 for free!
As already mentioned, jv16 PowerTools is powerful, and feature filled:
Main Tools
What is not mentioned in the list above is the fact that jv16 PowerTools has a backup/restore system which has you covered in case you delete something, like a registry entry, that you were not supposed to delete.
So are you interested yet? Well this is how to get jv16 PowerTools 2009 for free:
Version being given away for free: v1.9.0.590

Note: The latest version is v1.9.0.606. I was unable to successfully update to the latest version. So if you are ever told to update to the latest version, decline to do so.


Supported OS: Windows 2000/XP/Server 2003/Server 2008/Vista/Win7
Visit the promotion page and click on .
Download it.
After it finishes downloading (it is 5.9 MB), unzip it. Update: If you are having trouble unzipping it, download and install 7-zip and try again.
Open the folder you unzipped it to. A folder named "jv16PowerTools2009" should be located there. Open that folder. In that folder there will be two files: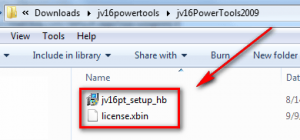 Double click on "jv16pt_setup_hb" and install jv16 PowerTools 2009.
After installation run jav16 PowerTools 2009. There will be a short wizard for you to work through. Go through it (don't just click through it; the wizard is for some important house keeping things). Once you are at the main program window, click on "Help" -> "License Information":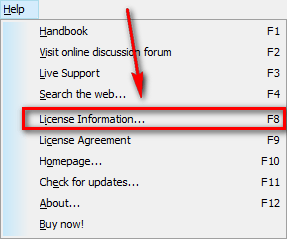 Hit the "Install new license…" button: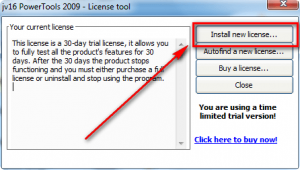 Navigate to the folder where you unzipped jv16 PowerTools 2009, find the "License.xbin" file, select it, and hit "Open":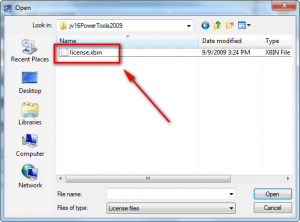 Now you will be told to restart jv16 PowerTools 2009: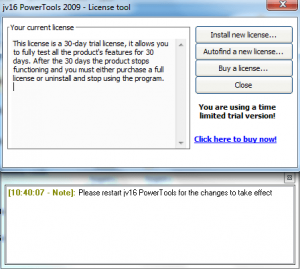 Restart jv16 PowerTools 2009.
Enjoy! Now you have a fully registered and functioning jv16 PowerTools 2009! Remember, it does not seem like this comes with free updates so don't try to update to the latest version.
Post below if you have trouble getting this freebie – I will try to help.
[via For-Free-On-Internet.com]
Related Posts