Last week I posted about how to get Ashampoo WinOptimizer 2010 for free. The problem is many people where having trouble getting WinOptimizer 2010 because Softonic's website kept giving them errors. For those people that missed out, here is another Ashampoo WinOptimizer 2010 promotion – this one will work for everyone.
However, before I tell you about the promotion, let me remind everyone what WinOptimizer 2010 can do:
The only problem with WinOptimizer 2010 is it does not seem to want to work on Windows 7. Anyone that runs to run the WinOptimizer 2010 installer on Windows 7 will get an error and will be unable to install it. I sent my friend in Ashampoo an e-mail asking for some help on the matter and he informed me WinOptimizer 2010 indeed does not support Win7; WinOptimizer 2010 Advanced and WinOptimizer 6 supports Win7 – but neither of them are available as freebies for the general public yet. As a temporary fix, if you are on Windows 7 and really want WinOptimizer 2010, right click on the WinOptimizer 2010 installer, go to "Properties" -> "Compatibility", check "Run this program in compatibility mode for:", hit "Apply", and hit "OK":
After you have done that, you will be able to install WinOptimizer 2010 on Windows 7. However, as a word of caution, it is generally recommended to not force-install a program on a Windows it does not want to install on. That does not mean the program, WinOptimizer 2010 in this case, won't work; rather it means don't be surprised if it causes problems on your computer.
So, how to get WinOptimizer 2010 for free? Just follow these simple directions:
Version being given out for free: v6.50.6585

Note: Don't be fooled into thinking WinOptimizer 2010 is the same thing as WinOptimizer 6 because WinOptimizer 2010 is v6.50.6585. WinOptimizer 6 has three features which are not in WinOptimizer 2010: "AntiSpy", "Context Menu Manager", and "Undeleter". Furthermore, WinOptimizer 6 works on Windows 7.

Supported OS: Windows XP/Vista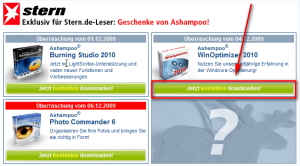 After WinOptimizer 2010 has finished downloading, install it. Take note during installation there will be an option to put a The-Page.net icon on your desktop. Uncheck the option if you don't want it (you don't need it – WinOptimizer 2010 will function without it just fine).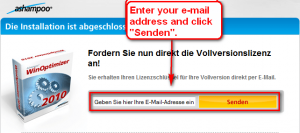 Enter your e-mail address in the box and hit "Senden"; if you already have an Ashampoo account you will be asked to login. If you don't have an Ashampoo account, you will have to confirm your new account before you can get the free key. So go to your e-mail's inbox, look for an e-mail from "Ashampoo <MrReg@ashampoo.com>" with the subject of "Registrierung (Schritt 1) … folgen Sie dem Link in dieser E-Mail." In the e-mail there will be a URL you have to visit to confirm your new Ashampoo account (visit it):

Take note when you register with Ashampoo, you are automatically signed up for Ashampoo's regular e-mail newsletters. If you don't want the newsletters, you can manually unsubscribe from these newsletters after you registered by logging in via MyAshampoo, going to "Subscribe service letters", and unchecking the ones you don't want.
Check the inbox of the e-mail you entered for the free license key. There should be an e-mail from "Ashampoo <MrReg@ashampoo.com>" with the subject of "Ihre Registrierung – Ashampoo® WinOptimizer 2010 (F_guj_de) (Deutsch)". In the e-mail you will find your registration code for WinOptimizer 2010: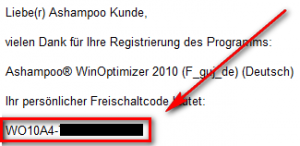 Copy the registration code.
Go back to WinOptimizer 2010 or run it if you don't have it running. You should be asked to register the software. Register it with the key you got in your e-mail:
If you have any trouble getting Ashampoo WinOptimizer 2010 for free, post below – I will try to help.
Related Posts