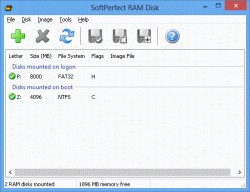 Believe it or not, hard drives can actually hinder performance when it comes to read and write speeds. That's why a lot of hardware enthusiasts are making the move to solid state drives, because the read and write speeds are remarkably faster which translates to better performance. Unfortunately, not everyone can afford to run out and pick up a new solid state drive, or build a rig that supports them. SoftPerfect RAM Disk is a Windows application that allows you to store virtual drives in your computer's memory, ultimately allowing your machine to access temporary files at much faster speeds.
What is it and what does it do
Main Functionality
SoftPerfect RAM Disk allows you to create virtual drives which are stored in memory for better performance; it is almost like creating your own SSD hard drive out of your RAM. When generating a virtual drive, you can select the file system (FAT, FAT32, NTFS), drive letter and size. Provided you have enough RAM in your system, you can create drives with up to 3.5GB of storage space (32-bit systems). It's important to note that while it can create persistent drives, this application best works for creating volatile drives for storing temporary files.
As a side effect, by using RAM to store your data, you offload demand from your hard drive(s) which help prolong the life of your drives.
Pros
Allows you to create up to 26 virtual storage drives that reside in the system RAM
You can pick to create storage drives on RAM that are persistent (i.e. data is retained after shut down or restart) or volatile (i.e. data is deleted/erased/lost after shut down or restart)
Creating and mounting disks takes seconds
You can customize all the related aspects of the drive including size (which is limited only by the amount of RAM you have available), file system, drive letter and more
Allows you to set Windows temp folder to store temporary files inside the drives created by this program
Cons
Prompts you to install AVG Toolbar and set AVG Secure Search as your homepage, pay attention during the install process
I did not encounter any significant problems, this program works just as advertised and the drives created bit work just fine
Discussion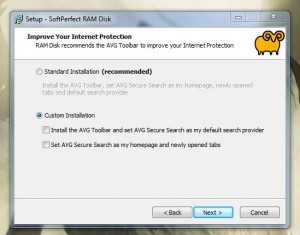 During installation, you will be prompted to install the AVG Toolbar and set AVG Secure Search as your homepage. Both can easily be disabled by choosing "custom installation" and unticking the necessary check boxes. Just pay attention while you're installing the application, and you should be fine. The package will also need to install the virtual disk driver, and an additional authorization menu will appear before that happens.
This application can certainly be used on any system, including those with a limited amount of RAM. However, because of the nature of the app I would recommend using it on computers with at least 1GB of RAM or higher. For the best results, you'll probably want at least 2GB of RAM available.
What this app basically does, as I've described above is create a temporary hard drive that actually resides in your system RAM. The allotted space works exactly like a regular hard drive would and even shows up in Windows Explorer. For the uninitiated that means you can see the drive when you click on 'My Computer'.
32-bit systems have a total drive capacity of 3.5GB, while 64-bit systems have no such limitation. However, total drive size will depend on how much RAM you have installed in your system. It's safe to assume that most folks running a 64 bit version of Windows will probably have more than 4GB of RAM installed hence why there's no size limit.
The first thing I noticed about SoftPerfect is that it's very user friendly. There's not that much to tinker with and it's pretty easy to get a virtual drive up and running. It just takes a matter of minutes, if not seconds to set everything up.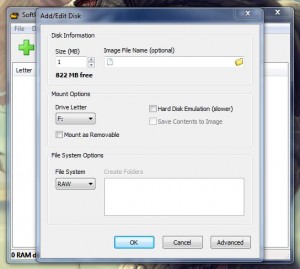 The options are all presented in a very minimal interface. All you need to do is select the "plus" sign to add a drive and then customize the various settings. The only real limitation with the app (besides available RAM) is the number of drives that you can have configured. You're limited to the available drive letters on your system which range from A-Z. If you know your alphabet (and I'm sure you do), that's up to 26 drives minus however many physical drives you have installed. To be perfectly honest though, I doubt that will matter because (as an end user) I don't see any reason to have 26 drives stored in virtual memory.
In the drive creation window, you can select the drive size (up to the maximum available memory), enter an image file name, choose the drive letter, mount the drive as removable storage, select the file system (RAW, FAT, FAT32, NTFS) and create folders on the drive. You can also enable a hard disk emulation option, but the drawback is that it makes use of the virtual drive slower.
The main reason for creating a drive this way would be to enable the virtual drive and move the Windows temp folder to it. While it would speed up a lot of components because the read and write limitation is removed, it's hard to say exactly what would benefit from the boost. In other words, there's absolutely no way for me to describe every single scenario in which a virtual drive like this would be helpful (it's safe to say there's a lot). At the same time, you really need to have enough free RAM available to take advantage of something like this.
A particularly interesting thing to note is that you can set the Windows temp file right from within the application. You can also set RAM Disk to run when Windows boots up, and backup any disk images for quick importing later.
When you're done using a disk, you can simply eject it in Windows Explorer like you would any other. You can always disable it through the RAM Disk UI too.
There's no point in discussing RAM usage of this app, since it will largely depend on what size drive you create.
Conclusion and download link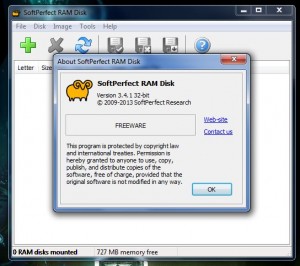 SoftPerfect RAM Disk is a useful Windows tool that allows you to create virtual storage drives which actually reside in the system memory instead of on a traditional hard drive. One of the most common uses for such a virtual drive is to move the Windows temp file over onto a volatile drive created by SoftPerfect RAM Disk, which not only helps increase performance (since read/write from RAM is faster than read/write from traditional drives) but also help keep your computer clean because volatile drives automatically erase stored data upon shut down or reboot and helps prolong the life of your hard drive(s).
Overall, the app itself is very easy to use and works well for its advertised purpose — highly recommended. However, take note you do need to be a bit cautious when using SoftPerfect RAM Disk since you can lose important data if you store it on a volatile drive by accident.
Price: Free
Version reviewed: 3.4.1
Supported OS: Windows 8/7/Vista/XP (32-bit and 64-bit)

Download size: 2.1MB
VirusTotal malware scan results: 0/48
Is it portable? No
Related Posts