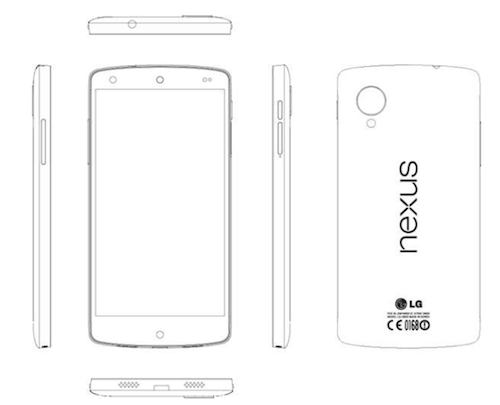 We've seen several leaks of the alleged Google Nexus 5 in recent times, but this one is surely the leak to make us believe the Nexus 5 is out there lurking in the shadows. The newly leaked information came by way of Android Police, a blog that focused solely on Android related content.
Similar to the LG G2, the Nexus 5 is powered by the super-fast 2.3GHz quad-core Snapdragon 800 chip. This same chip can also be found in the Sony Xperia Z1 and the Samsung Galaxy Note 3, which should give you an idea how fast it is. Furthermore, the Snapdragon chip is backed up by 2GB of RAM, 1GB less than the Galaxy Note 3's 3GB.
The screen size on the Nexus 5 according to the leaked manual is 4.95-inches, but still manages to boast Full HD 1080p resolution. In addition, the device is 4G capable unlike the Nexus 4, which only has support for 3G radio.
Moreover, the leaked manual states the Nexus 5, which is LG branded, will come in two flavors. One with 16GB of internal memory, and another with 32GB. The Nexus 4 only came in 8 and 16GB models, so if this is legitimate, then it should be seen as a step in the right direction.
You won't have a chance to see the manual as LG asked Android Police to remove it. If the Nexus 5 turns out to have specs mentioned above, then current Android smartphones are in for some serious competition.
[via Android Police]
Related Posts