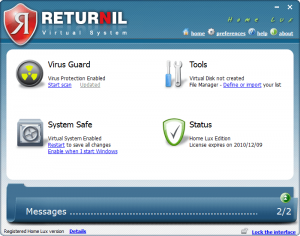 As promised earlier this week, we have a real treat for everyone this weekend: Everyone can get a 1 year license of Returnil Virtual System 2010 Home Lux for free! Before I delve into how to get the 1 year license, let me give a quick overview of what RVS 2010 is for those that don't know.
Returnil Virtual System 2010 is a unique security software that protects your computer in an unorthodox manner. RVS 2010 uses a powerful combination of anti-virus, anti-malware, and a virtual system to protect your computer from all types of viruses and unwanted system changes. The traditional security software like Avira, Kaspersky, Norton, AVG, NOD32, etc. actively, and on demand, detect and remove infected files. RVS 2010, on the other hand, has a two pronged attack to the malware problem:
Virtual System – RVS creates a "virtual copy" of your main system partition (the partition which you have Windows installed) and whatever changes are made to your computer are dumped when you restart your computer (there are opinions to tweak how it does that, but generally speaking, that is how it works).
Anti-Virus/Anti-Malware – RVS also includes the traditional anti-virus/anti-malware live protection and on-demand scanning features.
Because of this two pronged approach which incorporates traditional and innovative protection capabilities, if used properly, a user can keep his/her computer 100% clean with RVS 2010. If you desire more detailed information on RVS, please read dotTech's full review on Returnil Virtual System 2010 Home Lux. As indicated in the full review, RVS 2010 is one of dotTech's favorite programs.
Now, RVS 2010 comes in four different flavors: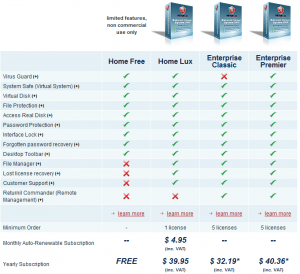 The free license you get via dotTech is of Home Lux – a $39.95 value.
That all being said, how to get the free 1 year license of Returnil Virtual System 2010 Home Lux? Just follow these simple directions:
Supported OS: Windows XP/2003 Server/Vista/2008 Server/Win7 (32-bit and 64-bit)
Enter your e-mail address in the following form and hit "Submit":
Check the inbox of the e-mail you entered. You should have an e-mail from "returnil-noreply [noreply@returnil.com]" with the subject of "dotTech.org RVS giveaway registration". In the e-mail there is a URL you have to visit to confirm your e-mail address:

Visit the URL by clicking on the link or copy + pasting it in your browser.
After you have confirmed your e-mail address, check the inbox again of the e-mail you entered. You should have another e-mail from "returnil-noreply [noreply@returnil.com]" with the subject of "Your dotTech.org RVS registration was successful!" In the e-mail you will find your license code:

Copy the license code.
Download RVS 2010 and install it. You may need to reboot your computer after installation has finished.
Run RVS 2010. Click on "Register" (located at the bottom left of the program window):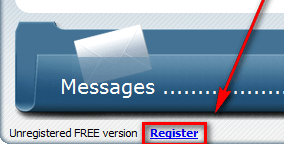 At the window that pops up, go to the bottom half under "Request New Registration". Click on "Commercial". Type in anything you want in "Name" and enter the e-mail you submitted earlier in "E-mail"; paste in the license code you got via e-mail in the "Number" box: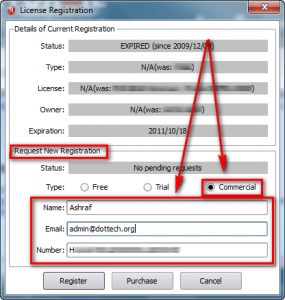 Click "Register" when you have entered everything. You should now see "Request Pending" written at the bottom left of main program window:
Wait a few minutes while your registration is processed. When the registration has been processed, you will be told via a popup dialog box at the bottom right of your computer screen:

It took 5-10 minutes to process my registration so be patient.
The license will last you one year. After the year is over, you can revert to RVS 2010 Home Free (non-commercial use only) or purchase another year's license of RVS 2010 Home Lux for $39.95. You can even sweeten the deal by getting 25% off.
————————–
Frequently Asked Questions
Q: How long are the licenses we are getting?

A: They are 1 year licenses (12 months).

Q: How long will this promotion last?

A: This promotion will end at 12 AM (Pacific Standard Time) on Monday December 14, 2009. At that time, new licenses will no longer be given out.

Q: If I already have a subscription of RVS 2010 Home Lux, can I still use your license?

A: Yes! However, the license you get via dotTech will "replace" your license so only use it if you have less than 12 months left on your subscription.

Q: Is there a shelf life to the license?

A: Sort of. You can only get the license for free until this promotion lasts. However, after you get the license, you can activate it anytime from now and 12 months from now. The catch is the clock starts to tick once you get the license so if you, for example, activate it 6 months from now you will only have 6 months left on it.

Q: Can I share the license with my friends and family?

A: This freebie is for everyone, including your friends and family. If you would like your friends, family, and others to be able to take advantage of this great offer, please send them to this page so they can get a license for themselves!
Related Posts