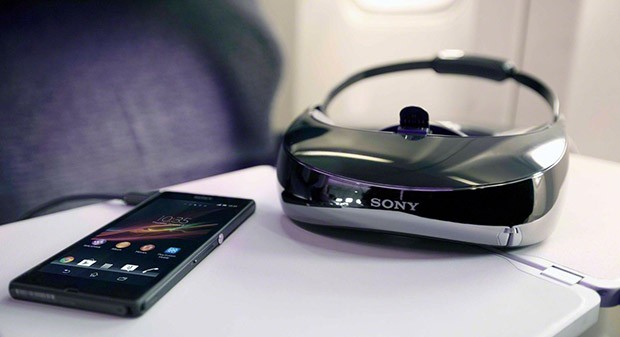 Sony's new personal 3D viewer HMZ-T3W is up for pre-orders now in Sony website and retail Sony stores. The HMZ-T3W is the third generation product to improve your personal 3D viewing experience, which has wireless functionality and said to simulate huge 750 inch display.
The first and second generation HMZ were quite heavy and don't have the wireless features. Both of them needed regular power supply. But with the 3rd generation HMZ, Sony introduced some quite good features like wireless with dual OLED monitors and you can take the cinematic experience at 65 away from the screen.
From the 5.1 channel in the second generation HMZ, Sony has upgraded to 7.1 channels for better 360 degree sound and the design has improved a lot with the color turned to glossy black from white. The headrest has got more ergonomics and the forehead cushion will be more comfortable.
The high definition dual OLED screens are said to display high definition HD and 3D images. Sony introduced 60GHz wireless technology in HMZ-T3 for loss-less video streaming. You can connect the HMZ-T3W to any mobile device and enjoy the cinematic experience in large 750 inch display.
The batteries are said to have 3 hours charge when used in wireless HD connection and 7 hours charge when used in HDMI. So that says you can enjoy a full movie. HMZ-T3W takes 2.5 hours to charge up to 80% and 4.5 hours to 100%.
The HMZ-T3W is available for pre-orders at Sony UK website on a price 1,299 pounds. It is believed that Sony is trying to include the PS4 compatibility into HMZ-T3W and also working on pricing issues. If these things can be handled, I guess Sony can expect more and more buyers.
[via Engadget]
Related Posts