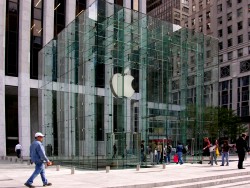 After Nokia announcing that Nokia World, its annual event where it showcases its flagship products across segments, will take place in Abu Dhabi on October 22, Apple has scheduled its event on the same day. They are expected to show a whole host of devices though the updated iPads will lead the announcements.
The next gen iPad is expected to be a slimmer tablet with smaller bezels similar to the iPad Mini. Internally, it'll have the A7x chip possibly with double amount of RAM. The iPad Mini too will see an update with the processor being upgraded as well as RAM. There are rumors of the iPad mini with Retina Display being launched this time but Apple is testing variants of the iPad Mini with and without a Retina Display.
Apple is also expected to announce new Macbook Air and Macbook Pro with Haswell upgrades. It is believed that Apple will finally announce a shipping date for the new Mac Pro and it should be available before December.
However, Nokia, the Finnish company, plans on unveiling as many as six new devices that include the Lumia 1520 phablet, Lumia 2520 Tablet, Lumia 525, Asha 500, Asha 502 and 503 on the same day.
The Lumia 1520 is expected to come with a 6-inch 1080p full HD display, 20-megapixel camera, Qualcomm Snapdragon 800 processor with 2GB of RAM, 32GB of internal memory and microSD support, a nano-SIM card slot and Microsoft's GDR3 update.
The Lumia 2520 is expected to flaunt a 10.1-inch (1920×1080 pixels) display, and will be powered by a Snapdragon 800 chipset and supplemented with 2GB of RAM. Other features likely to be included are a 6-megapixel rear and 2-megapixel front facing camera, 10 hours of battery life with LTE connectivity and 32GB of internal storage along with a microSD card slot.
Microsoft also announced that its new Surface Tablets will be available in the market on the very same day.
Related Posts