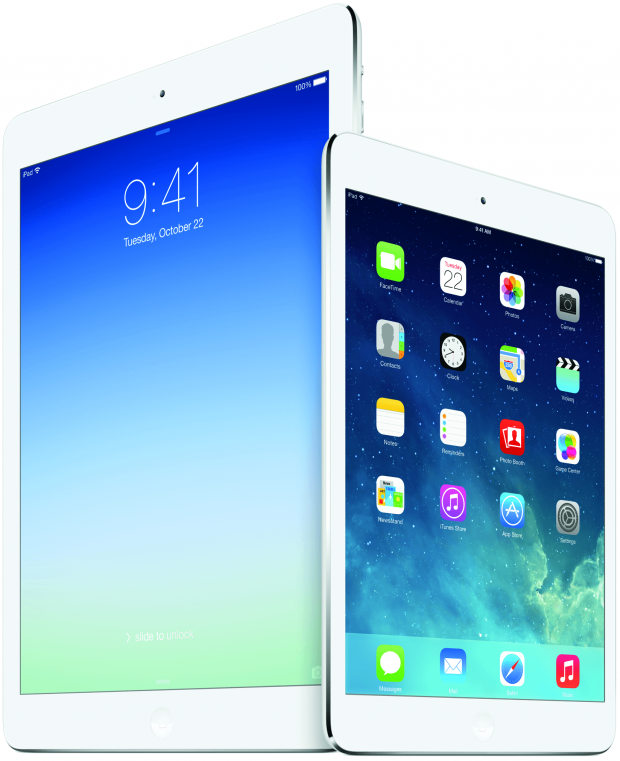 Yesterday at Apple's MacWorld event, the company announced the long await upgraded version of the 4th generation iPad. The company calls this new device the iPad Air, which is the perfect name because the new iOS tablet only weighs in at 1 pound. This is no joke folks, the new iPad Air is only 1 pound in weight, which is really impressive considering the tech that is inside. Apple really outdid itself this time, or did it?
OK, so the iPad Air comes packed with the same 64 bit processor found in the iPhone 5S. There' also an M7 Motion coprocessor along with an improved GPU for intense mobile gaming. Furthermore, the display size is unchanged at 9.7-inches with a resolution of 2,048 x 1,536, and 264ppi pixel density. On the back, there's a 5-megapixel iSight camera for taking photos and videos, and on the front, a 1.2-megapixel camera for those personal video calling moments with the family or significant other.
Design wise the iPad Air, comes off as a bigger version of the iPad Mini, which is not a bad thing because it looks really good from our point of view.
Interestingly enough, Apple claims the iPad Air will have the same 10 hour battery life as the 4th generation iPad, but the battery is actually smaller. The 4th generation iPad has a 42.5-watt-hour lithium polymer battery, while the iPad Air is rocking a 32.4-watt-hour lithium polymer.
Now, apart from the upgraded processor, GPU and design of the iPad Air, it is basically the same as the previous device of 2012. It doesn't even have the fingerprint scanner found on the iPhone 5s to further set it apart, so we're not certain if Apple fans will flock to the Apple stores come launch day. Nevertheless, it's still a worthy device if only for the upgraded SoC, and it is quite affordable.
For the WiFi only version, you can pick up the iPad Air for a decent $499, and $629 for the WiFi plus LTE version.
Apple also announced the upgraded version of the iPad Mini. It comes packed with a 7.9-inch Retina Display with a resolution of 2,048 x 1,536. There's also the addition of the 64 bit A7 processor found in both the iPhone 5s and iPad Air.
With all that aside, let's touch on something that has been bothering me. Apple claims the iPad Air weighs in at 1 pound (469 grams.) However, last time I checked after doing the mathematics, 1 pound equals 454 grams, and 469 grams equal to 1.03 pounds. So the real weight of the iPad Air is 1.03 pounds; yes I'm nitpicking , but I had a "Monk" moment and just had to fix it.
[via Apple]
Related Posts