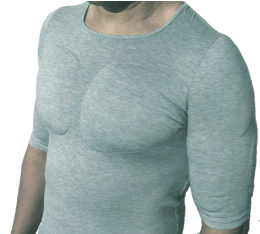 In today's world, folks always want to take the easy way out in most situation. For example, if your body is out of shape, why go the gym when you can simply wear a t-shirt that gives people the impression that you're a true muscled man? For only $50, you can own this padded muscle shirt from Funckybod.
This shirt is a big win for those who are interested in hiding a flat chest or a fat stomach. No need to eat healthier or waste time going to the gym, for this Funkybod shirt will get you the stares you've always wanted since high school.
The Funkybod undershirt is designed to enhance your natural physique. Because of the way it is designed, there is a marked improvement in the look if the wearer has the typical visual manboob issues when wearing a shirt. This was not the intended market for the Funkybod muscle top. Initially, it was designed to enhance the upper body muscle groups of skinny to medium build men. After initial trials we found that some of the smaller men had manboob issues which were covered well with the Funkybod muscle top. This led us to experiment with larger men and look into the manboob issue further.
Funkybod's top features:
Chest plates giving a pumped look
Shoulder plates to give a broader look
Bicep plates giving bigger biceps
Tricep plates giving bigger triceps
Feels realistic to the touch
Bear in mind that whenever this shirt is off, that person your with will see your true self, and they might not be happy with the end product.
Our advice? Just take the time out to exercise rather than cover up the problems. You'll feel better both physically and mentally if you do, something this padded muscle shirt can never achieve for you.
[via Funkybod]
Related Posts