The first cross-platform version of Blackberry Messenger (BBM) was released last week on iOS & Android which received great support from users worldwide. According to the company's report, its messenger app was downloaded 10 million times within 24 hours. Plus, the app received 60,000 5-star reviews on Google Play Store and made to the top list on Apple App Store
BBM is available on Apple App Store & Google Play Store for free download and use, but due to high traffic, Blackberry has currently limited access to the service. Unless you were pre-registered with Blackberry to use BBM or registered prior to this waiting line/list being put in place, the only way to use BBM is to reserve a spot in line by registering with your email and waiting for your turn. Don't want to wait in line? This guide shows you how to skip that line. Read on to learn more.
Before We Begin
Please take note while this trick is supposed to work on both iOS (iPhone/iPad) and Android, we've only tested it on iOS. Let us know in the comments below if you are an Android user and this worked for you.
Also realize this is an unofficial trick and Blackberry may close this loophole at any time, so hurry while it is still open.
HOW TO SKIP BBM WAITING LINE ON IOS (IPHONE, IPAD) AND ANDROID
To skip BBM's waiting line on iOS or Android, do the following:
Step 1 : Download and isntall BBM from Apple App Store or Google Play Store.
Step 2 : Open the app, register your email, and click next: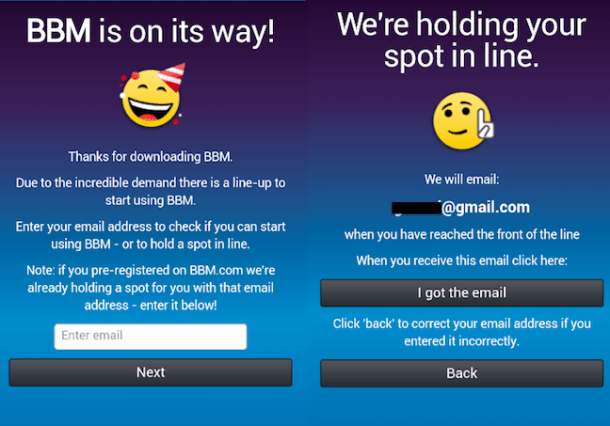 Step 3 : Now force the app. iOS users can do this by double tapping on home button and swiping up to close BBM. For Android users, force close it with a task killer or bring up the multi-tasking menu and swipe left/right (smartphones) or up/down (tablets) if you are on Android Jelly Bean.
Step 4 : Reopen the app, enter your email and you'll receive a BBM pin which your friends can use to add you and you're done. You can now use BBM without having to wait in line!
Conclusion
That is all! It just takes 2 minutes to try out this trick and get your messenger set up and running. Enjoy!
Related Posts