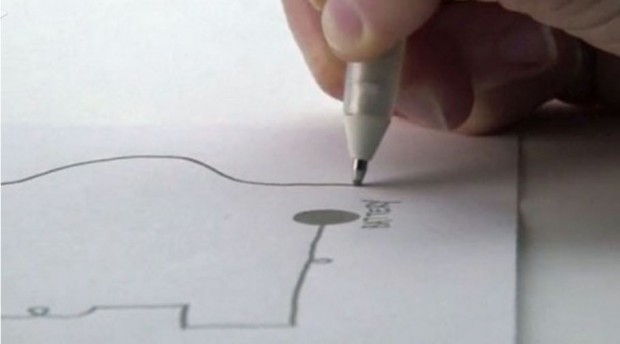 Drawing a circuit out can give you an idea of how it works and help you visualize the end result. Too bad there isn't a way to test it before you actually go through all the trouble of building it. That problem is actually a thing of the past, Electronink Incorporated has developed a rollerball pen that uses conductive ink. You can have a fully functional circuit as quick as you can draw it.
The Circuit Scribe pen allows you to test out prototypes and electronics without going through the hassle of building a complete board. There are no wires, soldering, or boards required. Simply draw out your design, and use a coin battery and LED to see if it works. You don't have to draw it on any special medium either, simply sketch it out on paper and you can have a working circuit to test before you build. There is no lag time in testing either. The ink dries instantly allowing you to start testing as soon as you finish your sketch.
For those who may be interested, this pen can be used to draw and test any type of circuit. You can work on a simple switch or a complicated touchscreen design. Because you can do all your testing on the paper, it saves time and money. If you mess up, simply scrap the paper and start over.
Electonink has already raised the $85,000 that it set out to raise from its Kickstarter campaign. The idea is so popular that the stretch goal of $250,000 has also been met within a week of the campaign going live. The stretch goal is going to allow the company to design and build an education and STEM outreach program.
[via Mashable, Kickstarter, PSFK]
Related Posts