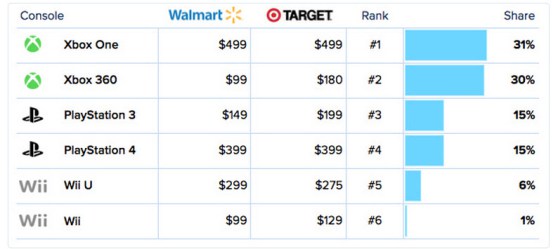 As far as early indications go on how the console wars went on Black Friday, it seems that so far Microsoft is in the lead.
This information comes to us through a survey conducted by InfoScout, a market research firm, and according to their findings, so far, Xbox One console sales make up 31% of the market. What's more, coming in second place with 30% is the Xbox 360. To be fair though the Xbox 360 is only $180 though.
The PlayStation 4 came in at fourth place with only 15% of the market, though the fact that they had limited supplies in stores is a factor. That and the survey takes into account sales from Target and Walmart, so the tide could easily change in the long run. Still it is an interesting indicator on how things could turn out.
On the games side it was Call of Duty: Ghosts which was the undisputed winner. The survey done by InfoScout doesn't detail the percentage, but it seems to have sold more than twice the copies of Disney Infinity, which comes in at number 2 on the chart.
[via Venture Beat]
Related Posts