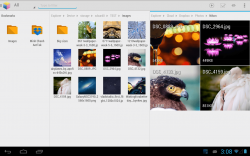 Every file manager varies in terms of features. Sadly, not all of them can provide the features and functionalities that you want. Not even your phone or tablet's default file manager. If you want a file management app with better features, you can try some of those that are available for free at the Google Play Store. Anyways, let's find out if AntTek Explorer Ex can help you manage your files in a simple and speedy manner.
What Is It and What Does It Do
Main Functionality
AntTek Explorer Ex is a free file management application for Android devices. It is said to be the first multi-panel file explorer for Android. Unlike other file managers, this app supports "drag and drop" so you can easily move or copy files from one folder to another. This has been made possible due to the app's ability to manage and organize your file directory in multiple panels. So all you need to do is to customize the panels according to your own preferences (simply place the directory that you like into those empty slots). What's also great about this app is that it has a built-in file archiver so there's no need for you to download a separate app just to compress your files into ZIP format.
Pros
Well-designed, responsive and intuitive UI
Easy to use – supports drag and drop
Supports multiple panels – each panel represents one parent directory or sub-directory so if you want to move or copy documents from one folder to another, you can create two panels or more
Features two different themes – Light and Dark
Has a built-in file archiver – can compress files into ZIP archives, can decompress ZIP and RAR archives
Features the most essential tools for file sharing and management – ex. cut, copy, move, paste, delete, share, rename, properties, create new directory, etc.
You can browse your device's root directory such as the files stored on your device (system files) and SD card
Built-in viewers for images, animated GIFs, APKs, source codes, etc.
Cloud Explorer – you can manage your cloud-based directory together with your local files
You can create home screen widgets and shortcuts for your bookmarks, files and folders
Different Viewing Styles and Sort Modes – view by list, detailed list, compact list, grid, thumbnail, show hidden, etc.; sort by name, size, modification time, file type, etc.
Cons
Discussion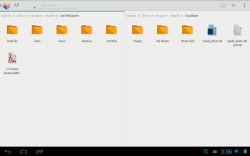 AntTek Explorer Ex is definitely one of the best file explorers that I've tried so far. It features a smooth, responsive and well-designed user interface that supports drag and drop via multiple panels. It also has a suite of features that are highly useful for users who wish to manage and organize their files in a quick and easy manner.
To get started, launch the app then quickly navigate to its home screen. You'll then see its main menu together with a quick overview of the available space in your system memory and internal storage. Go to "Settings" which is located at the top-right corner of your screen then select the option for "Multi Panels". You will then see three empty slots or panels. Select and drag any of the icons listed on the screen then place them to the empty slots. For example, you can place the parent explorer in the first panel then you can place the main explorer in the second panel. Do not forget to click the check button once you're done.
After the above stated steps, you're all set to view, manage and organize your file directory. Every panel is different so you are free to explore and customize each panel according to your own preferences. If you want to move files from one directory to another, you can use the first panel to navigate thru your original file and then you use the second panel to create a new destination folder. Once done, simply drag your file from the first panel then drop it into the folder that you have created in the second panel.
In terms of functionality, AntTek Explorer Ex is very easy to use. It is also very stable so you need not worry about those lags or annoying forced close errors. So far, I haven't experienced any issues or problems with this app and I really like the fact that it provides a suite of tools and built-in viewers. It even has a built-in ZIP archiver and it also allows you to extract ZIP and RAR archives. It supports almost all known types of file formats. You can also use its built-in search tool to look for specific files or folders.
Conclusion and Download Link
One of the main highlights of AntTek Explorer Ex is its ability to manage and organize your file directory in multiple panels. It also supports drag and drop so it is very convenient especially when you're handling multiple files and folders. Needless to say, this free file manager app for Android never fails to impress and I highly recommend it to anyone who is currently seeking for a good and reliable file explorer.
Price: Free
Version reviewed: 4.2.3
Requires: Android 2.2 and up
Download size: 4.0MB
AntTek Explorer Ex on Play Store
Related Posts