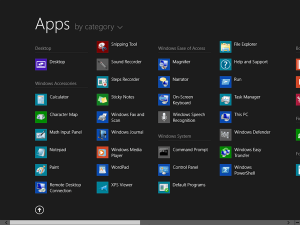 Windows 8.1 start screen displays tiles of apps that you have pinned . Over time , these apps can clutter up on your start screen and make it difficult to find an app you're searching for . However there's a new hidden feature found in Windows 8.1 that enables app list view instead of  large tiles on the start screen . The app screen shows all installed apps as well but in a neater format . If you wish to transform your start screen to display the app list instead , follow the steps outlined below . In addition , there is a setting that displays your desktop apps first before Windows Store metro apps .
HOW TO TRANSFORM THE START SCREEN INTO APP LAUNCHER IN WINDOWS 8.1
Step 1 : Open your desktop , right click on the taskbar and select properties
Step 2 : In the Taskbar and Navigation properties windows , click on the Navigation tab
Step 3 : Under the start screen section , you'll see a range of options to choose from . Tick the box that reads "Show the Apps view automatically when I go to Start" 
Step 4 : To have your desktop apps displayed first before Windows Store metro apps , tick "List desktop apps first in the Apps view when it's sorted by category"
Step 5 : Once done , click "Ok" to save the changes
CONCLUSION
After saving the new changes , go to your start screen again and now you will see the app screen with a list of apps installed instead of large tiles found in your previous start screen . You'll recognize that accessing the apps is much easier now compared to the previous start screen and the app list is more compact .
Related Posts