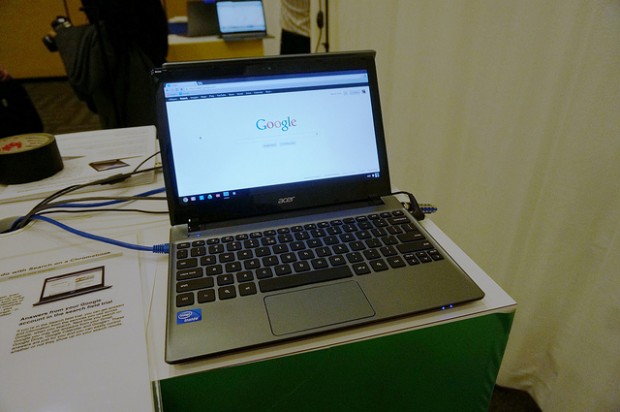 Chromebooks — laptops that run Chrome OS from Google — have significantly outperformed Apple's MacBooks in the PC landscape in 2013.
Thanks to data gathered by NPD group, a firm that specializes in market research, we know that Chromebooks have gone from accounting for only 0.2% of the commercial PC market in America in 2012 to now having 9.6%. In comparison, Apple's MacBooks  have declined from 2.6% to 1.8%. Commercial sales take into consideration PCs sold to the government, schools and businesses.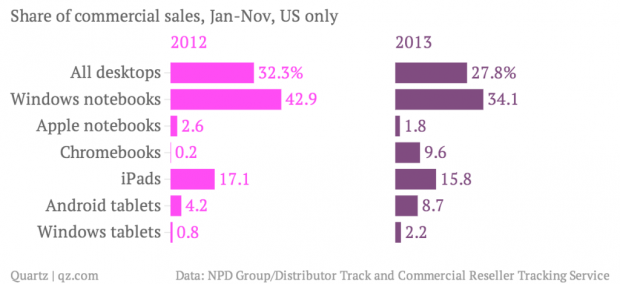 Chromebooks are also doing well when it comes to the non-commercial market although we don't have hard data to prove how well. However, right now on Amazon, a Samsung Chromebook has the number one spot for notebooks and coming in at number two is the Acer C720 Chromebook.
The rise in popularity of the Chromebook is definitely helped by its low price point. For example, Acer C720 Chromebook sells on Amazon for $199 USD. Also helping Chromebooks is the fact that most of many people's computer use is via the browser and Chrome OS is built to operate around the web browser, which essentially means people get mostly fully operational computers at a low price. The Macbook Air, on the other hand, starts at $999 USD. You can see how to those on a budget — meaning everyone outside of the 1% — the Chromebook would definitely be more appealing.
[via Quartz, Amazon, image via adamdachis' flickr]
Related Posts