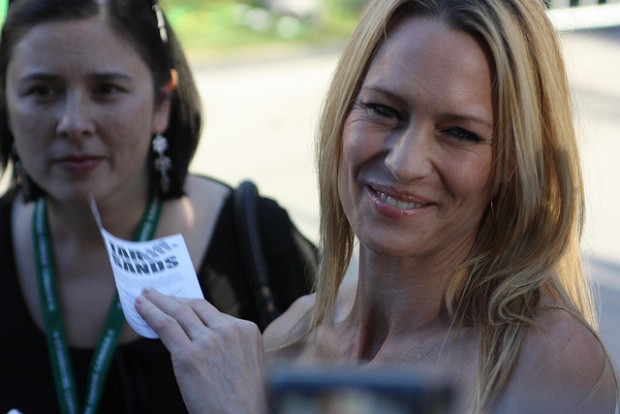 If there was ever a show that proved that Netflix could possibly compete with networks like HBO or AMC when it comes to original programming, it's House of Cards. Last night at the Golden Globes, this was cemented with Robin Wright's win for Best Actress in a TV Drama.
Wright plays Claire Underwood in House of Cards, who is the wife of Kevin Spacey's character and is equally as manipulative as he is.
She had some tough competition as well. She faced off against Julianna Margulies from The Good Wife, Tatiana Maslany, who was nominated for playing several different characters in Orphan Black, Kerry Washington for Scandal, and last but not least, Taylor Schilling, from Orange is the New Black, another Netflix series.
The actress who has been in several great movies, among them Forrest Gump and also the cult-hit The Princess Bride, thanked David Fincher for convincing her to take on the role and make it her own. "Thank you everybody; I really appreciate this. Thanks."
Wright will be returning to the role in the House of Cards' second season. Netflix will be releasing the entire series on February 14, 2014.
[via The Verge, Entertainment Weekly, image via Bucajack's flickr]
Related Posts