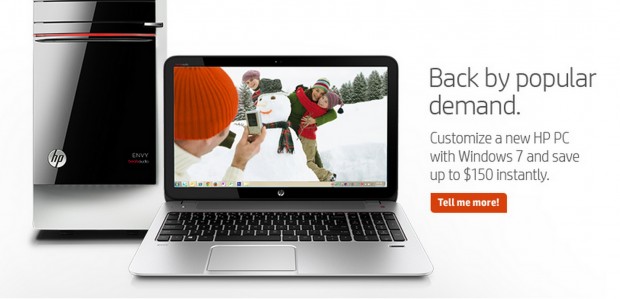 It's no secret that Windows 8 got off to a rough start. And while Windows 8.1 attempted to alleviate many of the issues users had with the OS, it appears even that might have not been enough. HP's official website is now heavily promoting computers with Windows 7 as an alternative to Windows 8. In fact, most of the computers on the manufacturers website run Windows 7 by default now, with Windows 8 relegated to a customizable option instead.
You'll still see the numerous touchscreen laptops running Windows 8, but HP is now clearly putting Windows 7 computers at the forefront of its advertising. "Back by popular demand," the ads read, along with the fact that a Windows 7 computer can save you $150 from your purchase.
Despite the changes Microsoft has brought with Windows 8.1, consumers might still prefer Windows 7 — either because the changes Windows 8 made didn't click with them, or their perception of the OS has been skewed due to all the bad press its received since release. HP's decision to highlight Windows 7 adds a little more to the ever-growing weight that rests on Microsoft's next Windows update, set to be revealed at its Build conference this April.
Have you warmed up to Windows 8? Or do you still prefer Windows 7? Let us know why in the comments!
Related Posts