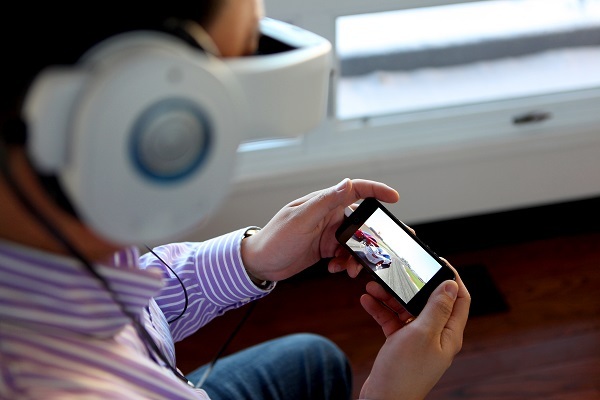 After impressing virtually everyone late last year, the Glyph headset recently begun its Kickstarter campaign. Unsurprisingly, the project was completely funded in just a few hours, and now it's sitting at more than double its initial amount with almost a month to go.
The Glyph is easily described as something similar to the more popular Oculus Rift headset, but its underlying technology and philosophy have some key differences. First of all, the Glyph also doubles as a set of premium headphones. In fact, it was designed to be worn while you're out and about — just tip the headphones forward so the band covers your face and boom. You have what Avegant is calling a "mobile personal theater," mimicking a massive 80-inch screen that's 8 feet away.
While the Oculus Rift and many other VR headsets use tiny screens embedded inside to achieve their effect, the Glyph doesn't have any. Instead, it uses two million micromirrors to reflect images onto the back of your retina. Because you're not staring at a tiny screen, the effect is supposedly more vivid and closer to real-life than other headsets.
Despite seeming like an obvious competitor to the Oculus Rift, the Glyph appears to be targeting a completely different usage scenario. Its meant to be used on the go, so the Glyph doesn't actually cover your entire field of vision — you can look down and still see your keyboard, basically. The Rift on the other hand is designed to completely immerse you, and its most definitely not designed to be used as a mobile headset.
The developers of the Glyph have promised a 2014 release date for the headset, saying they have "strong confidence" they will ship prior to Christmas. Each Glyph headset will cost $499.
[via Glyph (Kickstarter)]
Related Posts