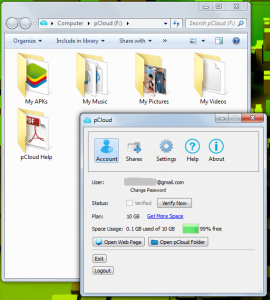 The good thing about having a cloud storage is that you can access your files on any device. Thus, it makes things a whole lot easier since you don't have to go through all those troublesome process of copying or moving your files from one device to another. Everything is synced in an instant so it doesn't matter if you're on your phone, tablet or computer. It's just that you have to carefully choose a secure and reliable cloud storage or else, your data will be compromised. Speaking of which, let's find out if pCloud can actually live up to your standards.
What Is It and What Does It Do
Main Functionality
Like any other cloud storage service, pCloud is intended to store and backup all of your data. It offers up to 10GB of storage space for free but you can increase it to 20GB by doing some friend invites. What's great about this service is that it's cross-platform, which means that you can access your files on any device or computer. As of now, you can use pCloud on iOS, Android, Web, Linux, Mac and Windows. We reviewed the Windows version for the purposes of this review.
Pros
Cross-platform – supports iOS, Android, Web, Linux, Max and Windows
User-friendly
Neat, well-designed, stable and responsive UI
You can upload any type of file may it be photos, music, videos, documents, APKs, programs, applications, presentations, data backups and a whole lot more
No speed limits, no limit in file size
You get up to 10GB of free storage space – can be increased to 20GB given that you do the friend invites (you get 1GB of free storage space per invite)
Auto-sync – you files will be automatically synced and you even get to view their current and previous revisions
You can share your folders and files with other users – you also get to control the user permissions
You can share the download link and upload link for your files and folders
Has a built-in image viewer, you can also use its built-in audio and music player to load your favorite songs and videos
Cons
None that I can think of but it would be nice if it can minimize and make its audio player run in the background so that its users can still upload, update and manage their files while listening to their favorite songs
Discussion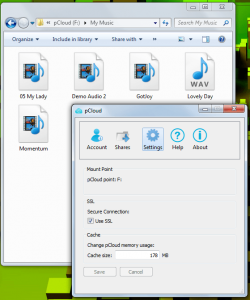 As I've already mentioned, pCloud is a cross-platform cloud storage service so you can access it on any of its supported platforms. However, in this review, I am only reviewing its Windows (desktop) version. Anyways, I find this cloud storage service really reliable plus it's really easy to install.
When launching pCloud for the very first time, it will ask you to reboot your computer. After reboot, just launch it from your desktop and it will then ask you to log-in using your email and password. If you still don't have an account, then all you need to do is to create one. The registration is free so you don't need to pay even a single dime.
Once you're properly logged-in to your account, the said cloud storage service will automatically keep its icon minimized in the system tray area. So all you need to do is to right-click on its icon to view its context menu. If you want to access your pCloud folder, just click the "Open pCloud Folder" option and you will immediately see your files. By default, there will be a couple of sample files stored in your cloud storage so it's up to you if you want to keep them or not.
Functionality wise, this cloud storage proves to be very reliable. Your files are also secured since it uses TLS/SSL for data encryption. I also find it very easy to upload and share large files. It is also important to note that this cloud storage service does not have any file limit so you can upload large files with ease for as long as they don't exceed the storage limit.
All in all, pCloud has proven that it has what it takes to provide its users with a secure, reliable and user-friendly cloud storage service. Moreover, the 10GB storage space is already good enough for personal use but if you do want to get more space, you can opt to subscribe to its monthly plans. While I don't really have any serious issues with it, I just think that it would be much better if its built-in music player can be minimized in such a way that it doesn't get in the way while you upload or manage your files.
Conclusion and Download Link
If you're looking for a good alternative to your current cloud storage service, then I highly recommend that you check out pCloud. This cross-platform cloud-based file storage and backup service has all the essential features and tools that you need to store, manage and share your files. So go ahead and give it a try.
Price: Free, Paid – starts at $4.99 per month
Version reviewed: 1.0.1
Supported OS: Windows 8, 7, Vista, XP and 2000 (also supports Android, iOS, Web, Linux and Mac)
Download size: 9.4MB
VirusTotal malware scan results: 0/49
Is it portable? No
Related Posts