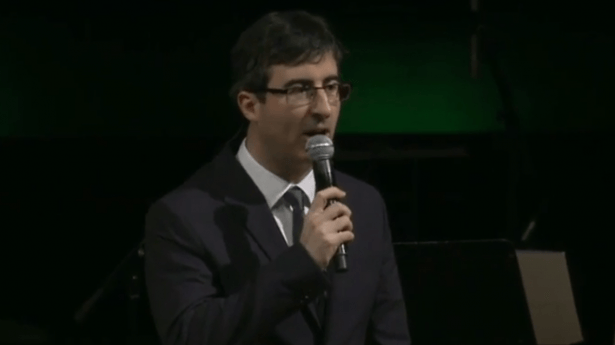 John Oliver was the MC for the Crunchie Awards on Tuesday, and he didn't have a problem roasting the tech industry elite at the show.
"F*ck you, straight away," was how he started off the show. "It is once again an honor to be in a room with such an illustrious group of high-functioning nerds. Thank you for having me, dweebs."
Oliver made fun of the uppity nature that some of the elite in the tech industry have. He also brought up the fact that Google has buses in San Fransisco that transport its own workers around, but not anybody else, and said that maybe they should tint the windows, so as not to have to look at the "peasants" outside.
He also commented on the fact that despite being incredibly wealthy, they still felt the need for award shows.
"You already have all the money in the world," he said. "Why do you need awards after that? It is absolutely ridiculous. You're no longer the underdogs, it's very important that you realize that."
"You're not the scrappy people that people get behind," he added. "It used to be that people who worked in the tech industry were emotional shut-ins who you could root for. Now those days are gone. You're pissing off an entire city."
Despite raising some interesting points, it's best to take Oliver's comments with a grain of salt. He is a comedian, works for The Daily Show, and is known for his very dry and sarcastic sense of humor.
[via The Raw Story]
Related Posts