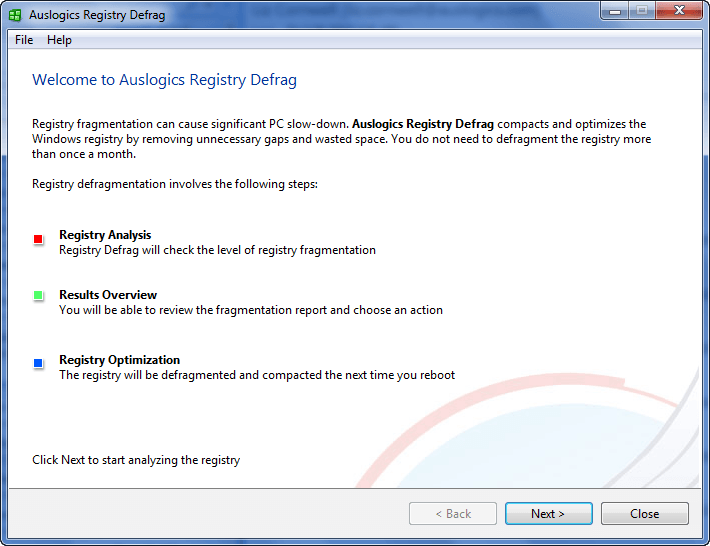 Auslogics is a popular name for their freeware Disk Defrag program. In addition to Disk Defrag, Auslogics also has a long offering of other software that can perform a variety of tasks for you with the same quality that we have come to know and love in Disk Defrag. Auslogics Registry Defrag is one such software.
Auslogics Registry Defrag, as the name implies, does to the registry what Disk Defrag does to your hard drive: defragmentation. Of course, to be completely fair, a Registry Defrag is not going have as big of an impact on your computer performance as Disk Defrag. Why? Because, lets be honest, a registry is not as large as a whole hard drive, so defragmentation is not as big of a deal. Nonetheless, though, if you use the right tool, defragging your registry can never hurt you.
These are all the benefits of Auslogics Registry Defrag as per the developer:
Eliminates structural defects in the Registry
Reduces the Registry size and the amount of RAM the registry takes up
Improves applications response time
Makes Windows running more stable
Improves overall computer performance
What is not mentioned in the list is something I can attest to with first hand experience: Auslogics Registry Defrag is, literally, point and click – extremely easy to use.
That all being said, 15 lucky dotTechies will have the chance to own a copy of Auslogics Registry Defrag for free! All winners will receive free updates. Here are the rules for this promotion:
Version being given out for free: 5.5.20.525

Free updates: Yes

Supported OS: Windows XP/2003/2008/Vista/Win7

Download size: 2.27 MB
If you want a chance to win Auslogics Registry Defrag, you must post a comment below answering all of these questions:
Have you ever defragged your registry in the past? If so, with what software?
What is your favorite aspect of Auslogics Registry Defrag?
Is there anything Auslogics can improve in Registry Defrag (bug fixes, more features, portability, etc.)? If so, please specify.
If you were in the market to purchase a registry defragger, would you be willing to pay $19.95 for Auslogics Registry Defrag? If not, then please name the price that you prefer.

Anyone that does not answer all four of these questions will be disqualified.
5 licenses are reserved for dotTech donors, authors, and artists. If you fall in this 5 license reserve category, please specifically state so in your comment (i.e. say "I am a donor" if you are a donor, etc.), otherwise I may not know. Also if you are a donor, please be sure to use the e-mail you donated with in your comment (do not post your e-mail in public, just use the e-mail in the "e-mail" form when posting a comment) so I can confirm.
The other 10 licenses can be won by anyone.
I reserve the right to award specific people licenses if I feel they have helped foster the dotTech family by being very active (the people who fall into this category is at my sole discretion).
You may only enter the drawing once. If you try to enter more than once, you will be disqualified.
When posting a comment, please make sure you enter an e-mail that is 100% valid and an e-mail you will check because the licenses will be distributed via e-mail by me. If you win and don't have a valid e-mail or an e-mail you don't check, your license will go to waste. However, please don't post your e-mail in your comment! You should never post your e-mail on a public form. Just enter the e-mail you want to be contacted at in the "E-mail" field when writing your comment – I will be able to get your e-mail from there. Or if you are a registered dotTechie, just post a comment normally and I will be able to find your e-mail.
The winners of this giveaway will be announced after the giveaway has ended in 48 hours, or on Sunday Feb 28, 2010.
Good luck to everyone!
Anyone that misses out on a free license of Auslogics Registry Defrag can always purchase Auslogics Registry Defrag from the homepage for $19.95 (USD). Or, better yet, if you want more "bang for the buck" consider Auslogics BoostSpeed, which includes Registry Defrag, for $29.95.

Related Posts