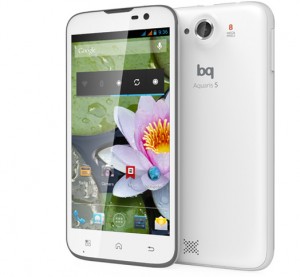 For those of you who have followed and possibly dreamed sweetly of it, Mark Shuttleworth the CEO of Canonical who makes the popular Linux system Ubuntu has confirmed something special. Shuttleworth has confirmed that two new Ubuntu based phones will be released later this year. The phones are being designed and created by two Chinese companies (Meizu and BQ).  Shuttleworth also told us that known brands such as Samsung will be making and delivering Ubuntu phones as well, but most likely in 2015 or later.
For the rest us in Canada and US we going to have to wait awhile before the Ubuntu phones hit our shores, but this is a very promising move forward in Ubuntu Touch. One should not get their hopes yet because the failure of the Ubuntu Edge left many of us a deep depression. The Chinese OEMs behind the Ubuntu Phone are promising power and durability.
BQ Aquarius 5 is a rather high end device featuring a quad-core 1.2 Ghz processor and 1 GB of ram. The device originally ran Android and will be re-designed for the Ubuntu System. For a full list of specs please visit the BQ website.
If your thinking to yourself that Ubuntu is a Linux based distribution for desktops then you might be surprised t hear that Canonical the maker of Ubuntu are working on the idea of unity and bringing a unified experience to all of your devices. A tool they are building called xMir will allow you to use phone as a desktop and write apps that work on both the desktop and the mobile phone, but this still a bit far in the future.
If you want to try Ubuntu Touch you can do so on your Google Nexus 4, but don't expect features to work all the time like text messaging and GPS and certainly don't hope for a lot of apps at first. In the future Ubuntu Touch is expected to replace Android and many experts are saying its quite possible.
We check Mark Shuttleworth's blog daily to make sure your getting the latest and greatest direct from the maker of Ubuntu, on your favorite news, tricks and tips website.
Related Posts