Defragging your hard drive regularly has it's benefits. The time it takes to load files, save files, etc. reduces; your computer performance increases (to an extent). There are many freeware defrag programs available out there (many of them top-notch quality such as Auslogics Disk Defrag), but here is a free promotion of a commercial defragger, O&O Defrag 11 Professional Edition.
As per the developer, these are the features of O&O Defrag 11 Professional Edition:
O&O Defrag 11 includes an array of functions that a really good defragmentation software should offer, ranging from a fully automated defragmentation function to an expert settings option.

Zone filing for optimal organization of files
Three additional defragmentation methods (eight methods in all)
Improved: even better at eliminating high levels of fragmentation
Background monitoring: your system is constantly kept at its peak
Screen Saver Mode: optimizes your PC whenever it's not being used
O&O OneClickDefrag for fully automatic configuration
Job Assistant for scheduling defragmentation
The latest version of O&O Defrag Professional Edition is v12 which usually costs $49.95 (USD), but you can get version v11 for free! However, I suggest you take a quick glance at a review written on it before getting it. I have not personally used O&O Defrag 11 Professional Edition so I can't vouch for how good/bad it is but the review is very negative, fyi.
That being said, to get O&O Defrag 11 Professional Edition for free, follow these simple directions:
Version being given out for free: v11.6.4199
Free updates: No
Supported OS: Windows 2000-Windows Vista

Visit the registration page and register. The fields "Email", "Name", "Salutation", and "Country" must be filled in. O&O sends regular newsletters regarding their products, so you may consider using a spam email address.
Check the inbox of the e-mail you registered with. There should be an e-mail from "O&O Register (register@oo-software.com) " with the subject of "Your license of O&O Defrag 11 Professional Edition":

In the e-mail you will find your registration information.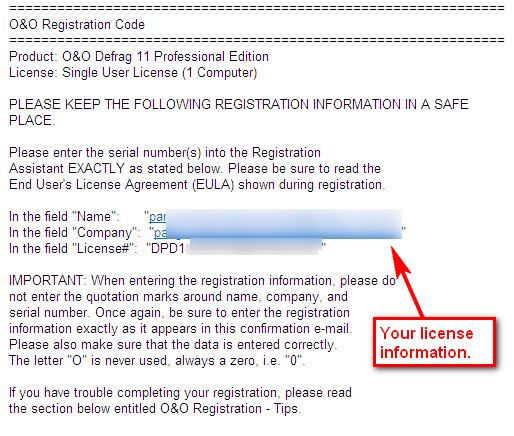 Keep this e-mail open because you will need that registration information soon.
Download (32-bit download | 64-bit download) and install O&O Defrag 11 Professional Edition.
After installation, run O&O Defrag 11 Professional Edition. You will be prompted to register the software. Enter the registration information you received in the e-mail, and register it.
Enjoy your free copy of O&O Defrag 11!
[via For-Free-On-Internet]
Related Posts